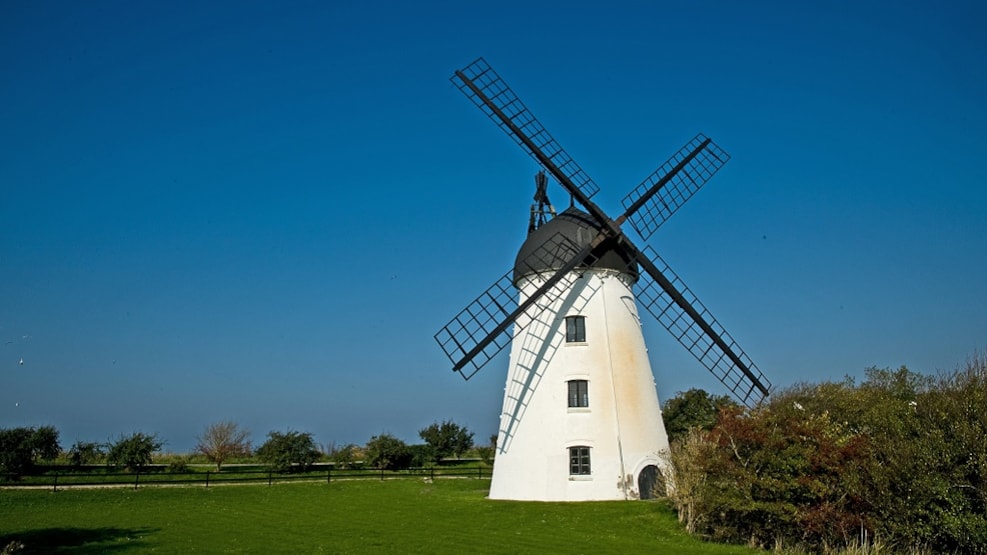 Stegø Mill
The beautiful white mill on Stegø is an alluring landmark - and has been of great importance for the work to dam and contain the entire area that used to be under the sea.
Stegø Mill, which was previously located on an island, has helped to pump the surrounding meadow areas dry.

This includes Gyldensteen Strand, which was reclaimed land for many years.

The mill burned down in 1974, but was rebuilt, partly with material from Langø Mill, which is located on another former island further down the coast.

The top of Stegø Møller is actually from Langø Mølle - so here you can imagine what Langø Mølle originally looked like, with a nice onion-shaped hat with a wind rose.
Can only be seen from the road
The mill is privately owned and can only be seen from the road, and it is not possible to get closer. There is no parking nearby.

In return, you can visit and enter Langø Mill, which has now been converted into a lookout tower. Here you can also see the remains of Archimedes' screw that pumped up the water.
Read more about Gyldensteen Strand and the reclaimed land that is now again under the sea!