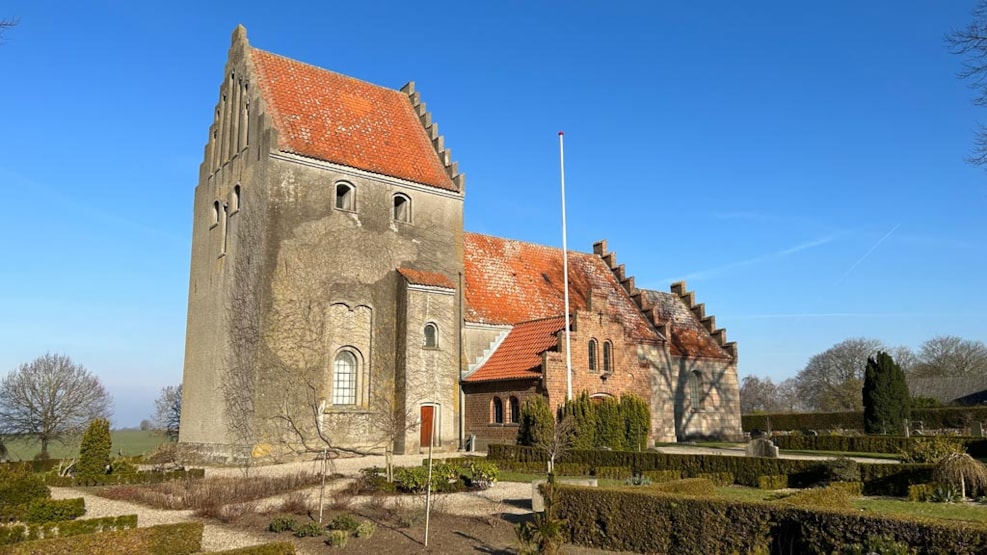 Nørre Næraa Kirke
Nørre Næraa Church is beautifully located in the small village Nr. Næraa, not far from Nærå Strand. The old medieval church hides a secret - a rune stone from the Viking Age in the wall!
Nørre Næraa Church is from Romanesque times and built in boulders and monk stones, and the tower was built in late Gothic times.
The church was restored from 1883-84, and here it got the current windows and was covered with rough cement plaster.

The church was under the Kørup manor, and the lord of the manor Rudolph Abraham Podebusk requested in 1676 to have the church demolished so that he could use the stones to rebuild the medieval church in Agernæs, which was closed in 1601, but which was closer to the manor. But he was not allowed to do so, and Nørre Næraa Church belonged to Kørup and then the manor Egebjerggård until 1925.
The rune stone of the church
The Christian church has a pagan rune stone built into the wall.
The stone was found in the cemetery in 1680, and about 100 years later it was placed in the stone wall around the cemetary. In 1842 it was put in the church porch, and even later it was placed into the nave of the church.

The stone dates from the early Viking Age in the ninth century, and it has the inscription "Thormund, hav gavn af kumlet!", Which can be translated as: "Thormund, may these (magical) runes be for your benefit"