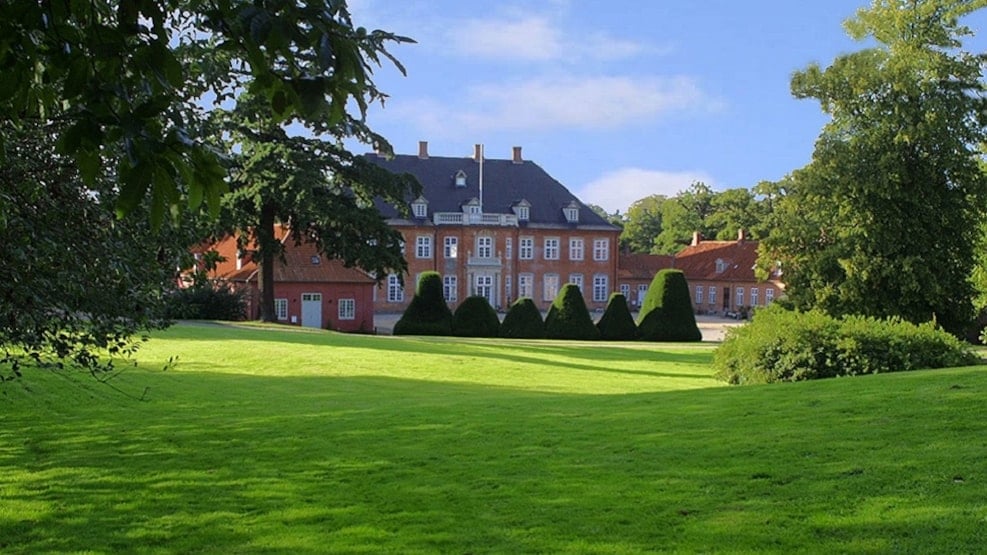 Langesø Castle
The beautiful Langesø Castle is located next to the long lake and close to Odense, in the middle of the deep woods ...
The beautiful manor house, Langesø Castle, is situated next to a long, narrow lake, which has given its name to the place (which means long lake). The current building was built in 1774-78, but there was a manor house on the site already in the time of Queen Margrethe I in the 14th century. There have been many manor buildings on the site, forinstance Antonius Bryske built a main building with a tower in 1554. However, it only had a short life as it was built by the lake shore which sank under the heavy stones. At the end of the 17th century, a half-timbered building was built, and 100 years later the current main building in classicist style was added.
The manor has had many owners, but the line of owners has been particularly dominated by the noble families Skinkel, Bryske and Berner. Under the Berner family, the manor was elevated to a barony by the king. In 1977, the last owner, baron Godske Berner Schilden Holsten, established the Langesø Foundation and donated the manor to it. The chairman of the foundation's board must always be a member of the Berner family.
There is a large production of Christmas trees on the estate.
The manor house is privately owned and can only be seen from the road.
There are many hiking trails in the large forests around the castle, where it is nice to go for a walk. There are MTB tracks and riding trails in the forests. If you want to use them, it is necessary to purchase a license.
It is also possible to see the castle from the lake side. Rent a boat and enjoy a sailing trip on Langesø with or without a fishing rod. Boats can be hired locally.