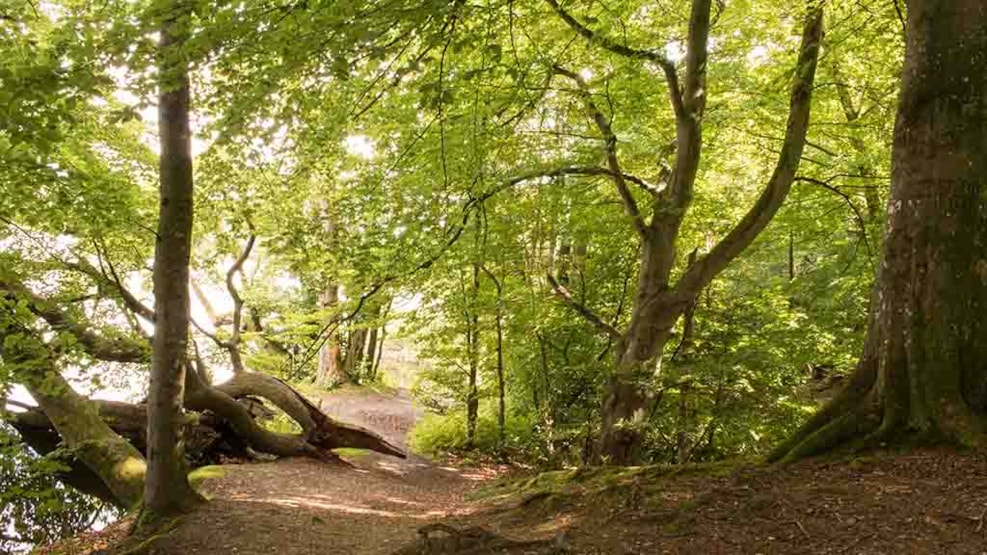 Langesø Forest at Morud
Langesø forest is located by the long narrow lake Langesø in Morud. There are tall fir trees, beautiful nature, good hiking trails, and lots to see!
The forest is named after lake Langesø (it means long lake), which is about 1300 meters long, 200 meters wide and 6 meters deep. Langesø was formed at the end of the ice age, where a large meltwater river dug into the terrain and created a tunnel valley.
You can enjoy the view on a nice walk or a run on the ca. 3 km long path around the lake.

For the past 200 years, the forest has grown from 165 to about 900 acres. In the latter half of the 19th century, there was a lot of beech forest, and in all the places where holes appeared due to dead beech trees, fast-growing foreign conifers were planted, especially larch, douglas fir, giant fir, cypress, arborvitae and California fir. Today, the forest consists mainly of beech trees, douglas fir and larch, and there are some impressively tall trees in the forest.
There are several paths around the forest, where you can enjoy a wonderful walk under the tall trees.

If you want to go for a bike ride, you can try the two ten km MTB trails in the forest. You have to buy a license before you can go - read more about biking in the forest here.
The area also contains many horse trails, and it is a great place to go for a ride. You must buy a licence before you take your horse to the forest. Read more about riding in the forest and how to get a licence here.
The forest is privately owned, and all traffic is permitted only on roads and trails and only from 7:00 until sunset.