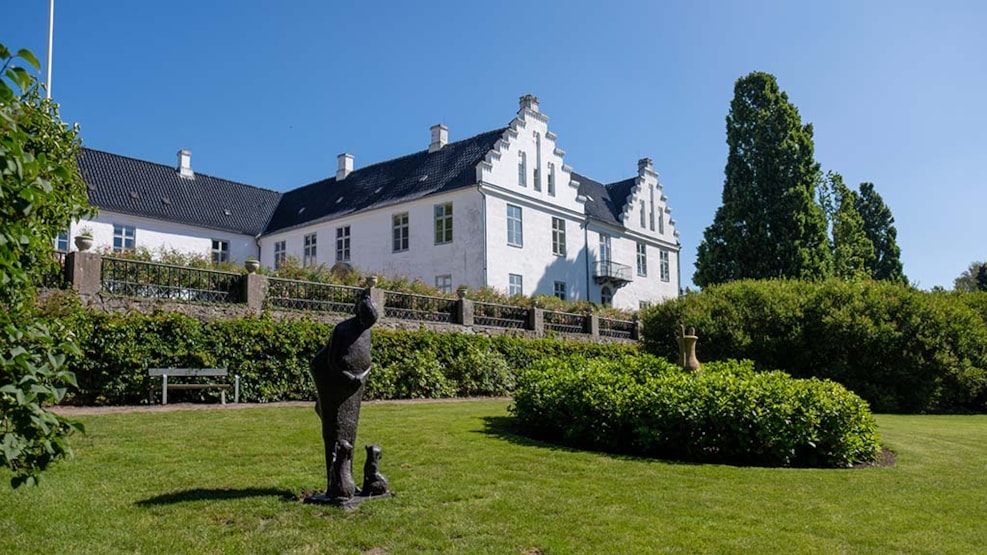 Dallund Castle by Søndersø
See the impressive white castle building at Dallund, which dates back to the 16th century - and take a walk around the beautiful lake in front of the castle!
Dallund Castle is beautifully situated by Dallund Lake.
Dallund and the Bryske family
Dallund is known as a manor house dating back to the 14th century, when it was owned by the old Danish noble Bryske family, who also owned the Funen estates of Margård and Langesø. The oldest part of the current building was built in around 1520 by the lord Eiler Bryske.
Eiler Bryske's great-great-grandson, Eiler Høg, inherited Dallund from his mother in 1614 and built the large tower. But the Swedish Wars of 1657-1660, when the Swedes invaded Funen and ravaged and plundered the island, hit Dallund hard. Eiler Høg had to move to Odense in 1660, where he died.
The manor was owned by various creditors until Colonel Günther Didrik von Finecke bought Dallund in 1722.
Dallund and the Blixen-Finecke family
The colonel expanded and remodelled Dallund Castle, and in 1849 the castle underwent extensive restoration and was given its current appearance.
The castle belonged to the Blixen-Finecke family until the 1900s. The estate owners managed to turn Dallund into a large manor house with a lot of land, and in the mid-1800s, King Frederik VII was a guest at the castle every summer, where he had a festive time with the then estate owner Baron Carl Frederik Axel Bror Blixen-Finecke, who was married to a Swedish noblewoman. After her death, the Baron married Princess Augusta of Hesse-Kassel, sister of the later Queen Louise, in 1854. At that time, a rather posh and distinguished life was led at Dallund.
Dallund Castle today
Baron Carl Blixen-Finecke's son, Frederik
Baron Carl Blixen-Finecke's son, Frederik Blixen-Finecke, sold Dallund in 1915, and the land was subdivided. After the death of the last baroness in 1926, the main building was bought at public auction by pharmacist P. Helweg Mikkelsen, who later handed over Dallund to the health insurance funds. It was a recreation home for many years.
The castle is today owned by the Dallund Castle Foundation and is used as hotel and conference facilities.
Dallund Lake
Dallund Castle and park are not open to the public.
On the other hand, you can enjoy a walk around the lake, where the Heart Association has established a marked Heart Path. Read more about Dallund Lake here!
Fishing in the lake is not permitted without prior agreement.