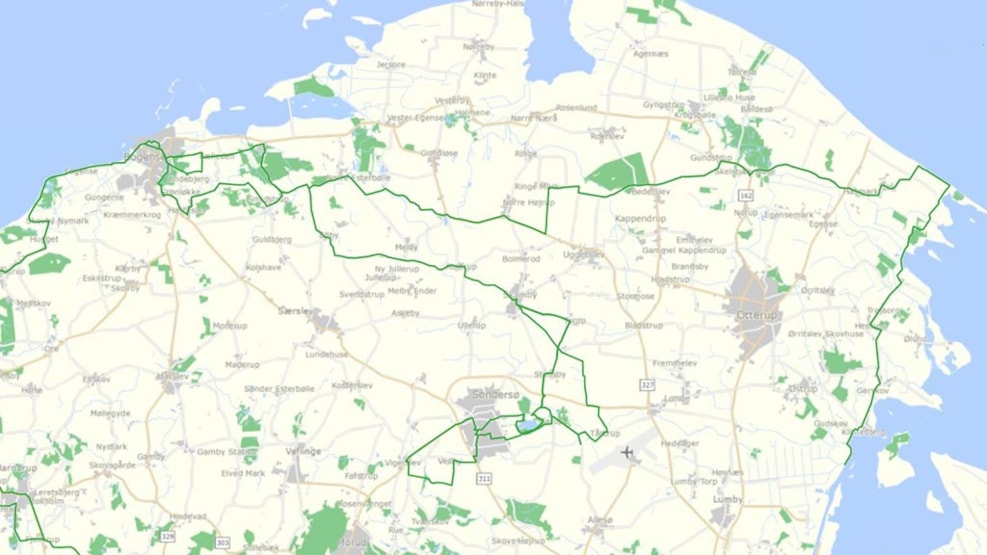 The regional bike routes on North Funen
Enjoy North Funen on one of the regional bike routes - on the Castle Route around Funen and the islands, along Odense Fjord between Hasmark and Odense or in the idyllic North Funen landscape. It'll be a wonderful tour!
North Funen is a great place to go biking, and the regional bike routes give you good opportunity to get around the beautiful area. The routes go along smaller roads and paths and are marked with signs. You can use maps of the routes on udinaturen.dk as a good starting point for finding your way.
The text is in Danish, but the routes are easy to see on the maps.
Enjoy your bike ride!
The Castle Route on Funen
The castle route has 14 stages around Funen and the islands, with two stages on North Funen, and you cycle past the most beautiful castles and manors. Click here to see a map of the route
Bike Route 31 between Bogense and Hasmark Strand
Go from Denmark's nicest market town Bogense to one of Funen's best beaches and experience the beautiful North Funen landscape. Click here to see a map of the route.
Bike route 32 between Hasmark Strand and Odense
Go along the dikes and the small towns by Odense Fjord and enjoy the view of the fjord. If you drive along the route all the way to Odense, you can continue along several other regional cycle routes, including to Kerteminde via route 45. Click here to see a map of the route.
Bike route 35 between Bogense and Odense
Here you'll drive past North Funen's history in the form of for instance Gyldensteen Castle, the Glavendrup grove with the Glavendrup stone, which has Denmark's longest runic inscription, and Dallund Castle. You can continue further past the small towns to the middle of Odense. Click here to see a map of the route.