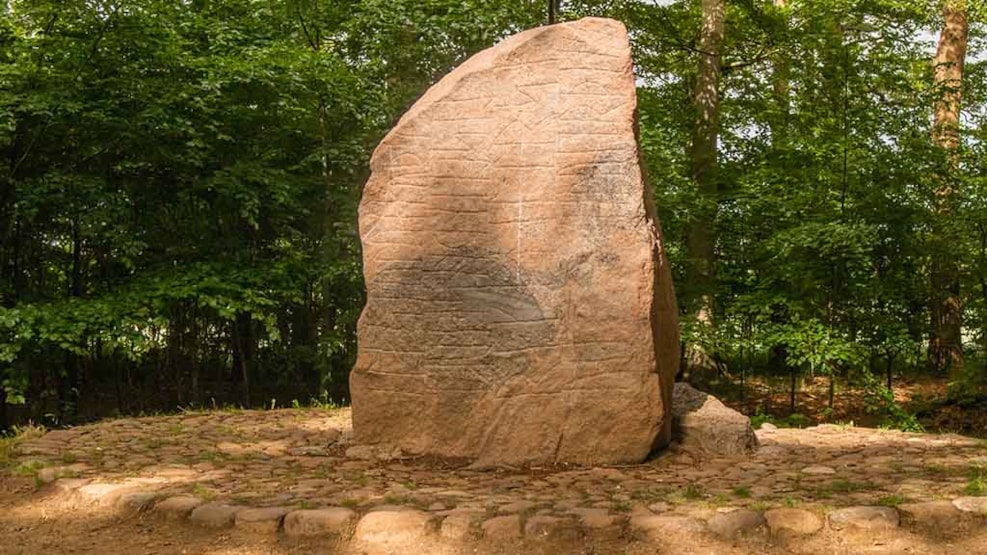 Glavendrup Stone - Runic stone
The Glavendrup stone with Denmark's longest runic inscription is a living memory (well, almost living) of the Viking age in the middle of the beautiful and atmospheric Glavendrup grove!
Visit North Funen's Viking past! The Glavendrup Stone is a Runic stone containing the longest runic inscription (210 runic letters) ever found on a stone in Denmark.
The rune stone was erected around the year 900 by Ragnhild over her husband Alle, who was probably a priest and chieftain in the area.
On the Glavendrup stone is written (here in English):
"Ragnhildr placed this stone in memory of Alle the Pale, priest of the sanctuary, honourable þegn of the retinue. Ragnhildr placed this stone in memory of Alle, priest of the Sølve, honourable þegn of the sanctuary-retinue.
Alle's sons made this monument in memory of their father, and his wife in memory of her husband. And Sóti carved these runes in memory of his lord. Thor hallow these runes.

A warlock be he who damages this stone or drags it (to stand) in memory of another."
The stone is part of one of the largest preserved stone ships found in Denmark (originally 60 m long and 12 m wide in two rows). A grove was established at the discovery of the stone.
⇒ Find more ancient monuments and burial mounds on North Funen