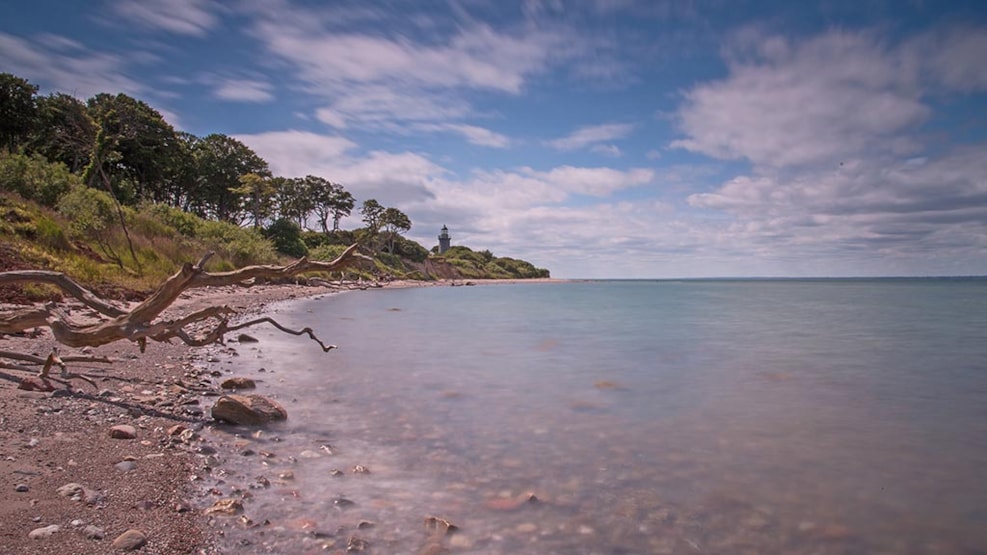 Æbelø
Æbelø is a paradise for birds and animals, and the deserted island has developed into a beautiful nature reserve on top of Funen!
Most of the island is covered in forest, but there are also open areas, where you can see deer or wild sheep grazing.
There are paths on the island. You can also walk around the island along the beach, but be careful as the coast drops into the sea in some places.
The island was designated as a conservation area in 1998, and today its nature is mainly allowed to flourish without human intervention, and insects and many other animals have returned to the island.
Walking to Æbelø
The island can only be reached through the water. You can either walk or sail to Æbelø by boat. You walk to the island starting at the car park at Lindøhoved. First you walk around 1.5km through the sea to the small island of Æbelø Holm. From here, you again walk through the sea again to Æbelø itself. During this part of the walk, the seabed is stony, so remember to bring some shoes with you.
The trip to Æbelø is in all about 4 km long. The walk around the island covers a distance of around 7 km. The walk to Æbelø will take you about 1.5 hours.
You can see the tide table for Æbelø here!
Good advice
If you want to avoid walking when the sea is at its deepest, you shouldn't walk in the water in the period between 2 hours before high tide and 2 hours after high tide. When the water is deepest, it goes up to around the waist of an adult. When the water is at its most shallow, it goes up to around the ankles.
It is very important to be aware of the tide and the wind direction.
You can see the tide table by clicking on the link on this page or picking up a leaflet from the tourist office. 
You should not walk to and from Æbelø during the evening or at night. When it's dark, it's impossible to orientate yourself and the water may be deep in some places.
Remember that Æbelø is a deserted island. This means you need to bring water, food, rubbish bags and other items with you on the trip. There is also no toilet on the island. It is possible to use the public toilet at Lindøhoved, where you start the trip to Æbelø.
Footwear for the walk in the water: Please note that you will need to wear old training shoes, waders, beach sandals or Crocs on your walk through the water. Wellingtons are not a good idea, unless the tide's very low.
It is not adviced to go to Æbelø if you are physically challenged or in in poor health.