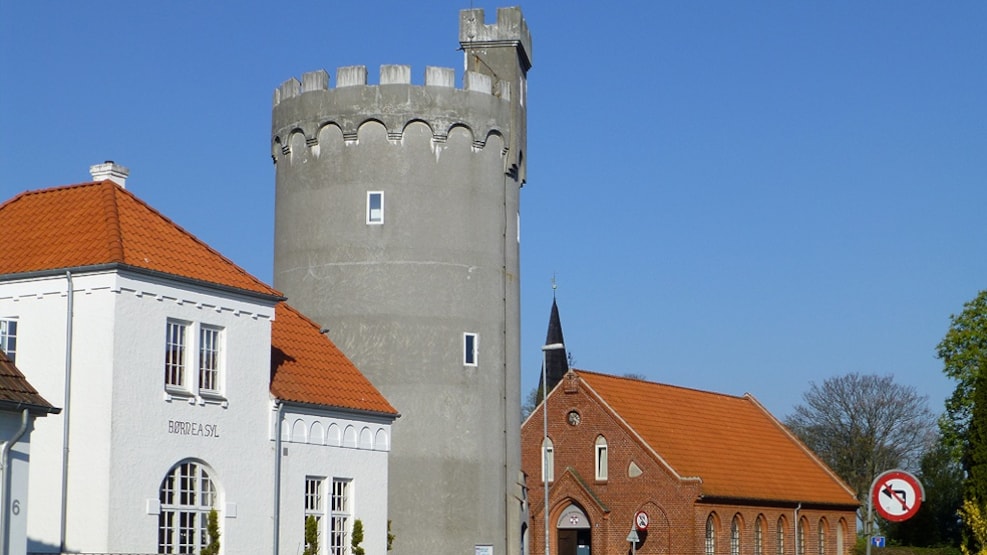 The Water Tower in Bogense
On Teglgårdsvej in Bogense there is a building that looks like an old castle tower. It's Bogense's old Water Tower!
The water tower in Bogense was built 1910 in connection with the then-new waterworks. At first it was planned to place the tower in the market square, but thanks to protests from the citizens of the town the plans were changed and the tower got its present location. 
Right from the beginning the water tower was also used as a look-out. From the open platform at the top of the tower you have a beautiful sight of the town and a unique view to the Little Belt towards Jutland and - not least to Æbelø. 
The water tower was in use until 1996 and was renovated so that the former water tank of 80 m² could be used as an exhibition space. Do you think you've seen the tower before? It is actually a smaller copy of the White Water Tower in Fredericia from 1908. The two towers have the same architect, namely Oscar Gundlach-Pedersen.
The water tower is sometimes open in summer, offering various exhibitions and events.