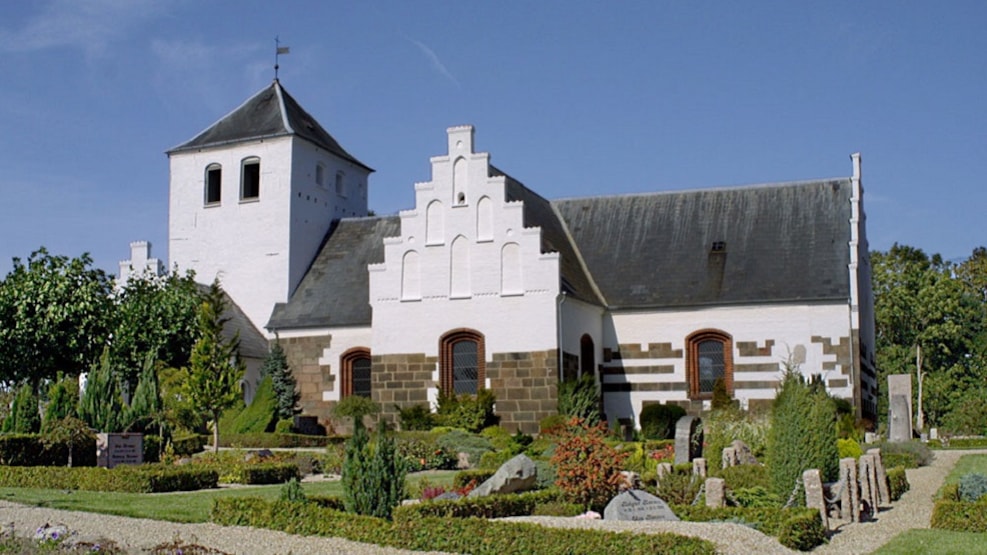 Vigerslev Kirke
The lovely church in Vigerslev between Veflinge and Søndersø is originally from the 12th century, but has been rebuilt many times since and has many beautiful and interesting details hidden behind the walls!
Vigerslev church was built in the Middle Ages and is a beautiful church in the pretty little village. The church has been rebuilt several times and thus has a Romanesque nave from the 12th century, a Gothic choir and cross arms from the 15th century and a tower from 1550.

Worth a look:
A pulpit with reliefs from 1606
Altarpiece designed as a pillar building with painting from the 19th century
Romanesque baptismal font
Gothic crucifix by the German sculptor Claus Beck, who was brought to Funen in 1515 by Queen Christine, where he got a farm in Odense from her and performed many sculptural works for the Funen churches.
There is a tombstone with a portrait of Chancellor Anton Bryske to Langesø, died 1566.
The church was used by the owners on Langesø until 1870, when Langesø Chapel was built.


Guided tours by appointment.