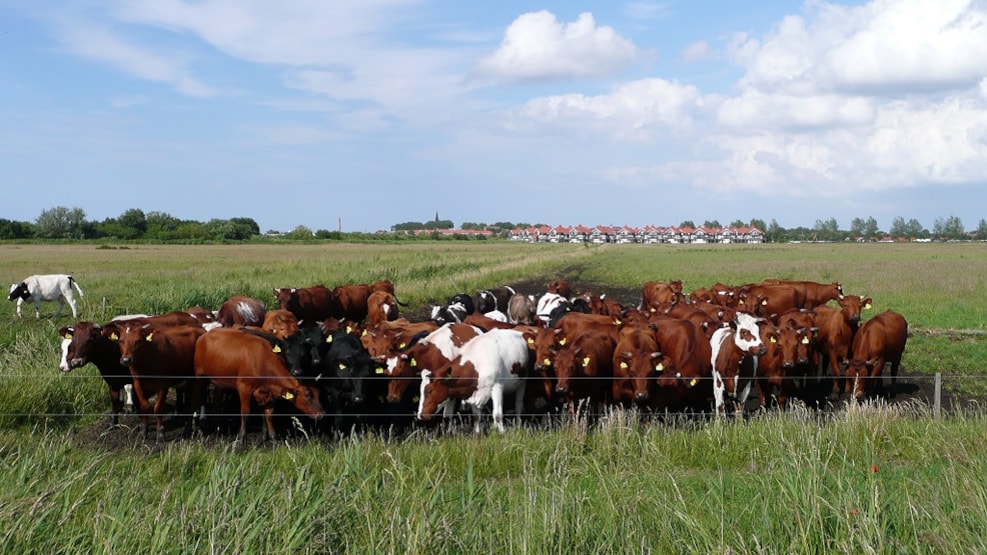 Vestre Enge, the Green Heart of Bogense
Vestre Enge is a beautiful nature area where you can see meadows as they looked 100 years ago - a great place to spot birds and other animals!
The Western Meadow is a former shallow inlet west of Bogense. In 1817-1819, enterprising farmers managed to build a dike between the then Fogense peninsula and the town. For more than 100 years, the reclaimed area was kept as a wet meadow with small windmills dewatering the land. After World War 2, the western pumping station was built while the meadow was being drained. This dried the land out so much that the soil could be ploughed and transition to ordinary crop production.
Today, the nature in the meadows is protected. The large meadow close to Bogense is a cultivated landscape maintained by hay harvesting and livestock grazing. If this stops, the meadow will become overgrown by reeds, bushes and later woodland. The western part of the meadow has been grazed by cattle for a few years, and the rare meadow plants are coming back. In spring, the meadow is awash with yellow buttercups, and the wet areas are white from cuckooflowers. You can also find the yellow kingcup and the protected purple western marsh orchid. In the low, reclaimed area between the dikes, you can see a growth of western marsh orchids, and the faintly yellow, hemiparasitic rattle grows in large spots in the wet parts of the meadow.
The more water there is in the meadow, the more birds there are. If you're lucky, you'll see the colourful kingfisher fishing in the channels. Sometimes you can spot the short-eared owl hunting in the late afternoon.
The meadows attract lots of birds. In spring, the northern lapwing, the redshank, the mallard and perhaps the very shy common snipe can be found nesting in the meadows. You can also spot the western marsh harrier searching for food. In autumn and winter, greylag geese, brent geese and barnacle geese can be seen grazing the meadows.
Find your way
You'll find Vestre Enge via the paths from Bogense Marina or from Vestre Engvej.
You can park on the large parking lot on Marinavej at Bogense Marina.