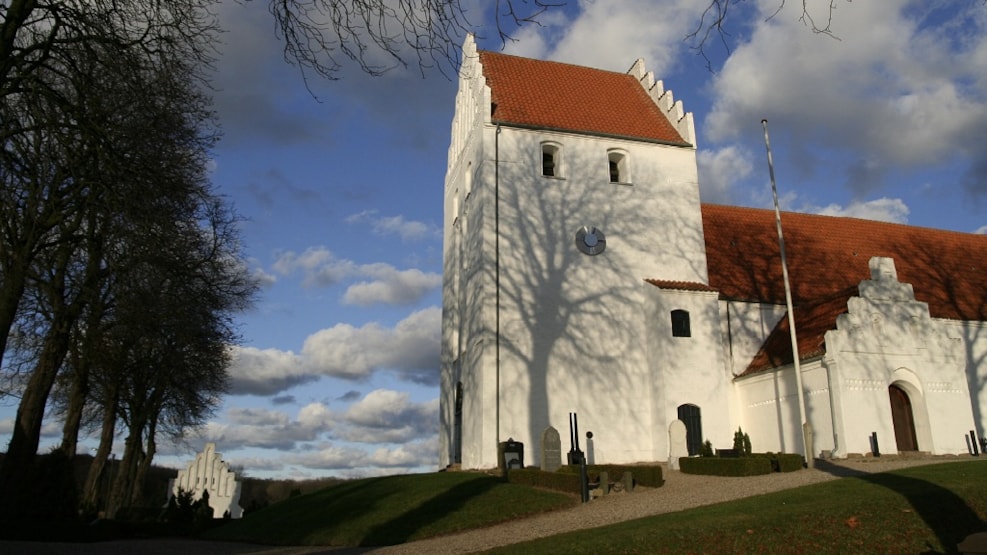 Veflinge Kirke
Veflinge Church is a beautiful whitewashed village church in the middle of the cozy village Veflinge, and the church contains several gifts from and memories of the noble families who lived close by.
Veflinge church is built about year 1200 with a Romanesque nave in boulders and a late Gothic rebuilding of the church in monk stone.

The church's altarpiece is from the Renaissance and donated by Corfitz Ulfeldt, the elder - junker, lord and owner of Rugård and uncle to the more famous royal council, who went to work for the Swedish side. Corfitz Ulfeldt the Elder died in 1614.

Worth a look:
Pulpit from 1572 with coat of arms.
The organ, set up in 1974, has 10 voices. Produced by Bruno Christensen & sons, Terkelsbøl.
Small crucifix from 1475
In the choir there is a beautiful headstone from 1591 with skeletons, depicting nobleman Axel Brahe, who was councilor and owner of Elvedgård, and his two wives Mette Gøye, with whom he had 6 children and who died in 1584, and Kirsten Hardenberg, with whom he had 4 children, and who died in 1639. Axel Brahe himself died in 1616 at the age of 66 years. On the headstone there are coats of arms from all the noble families from which the three noble people descended.