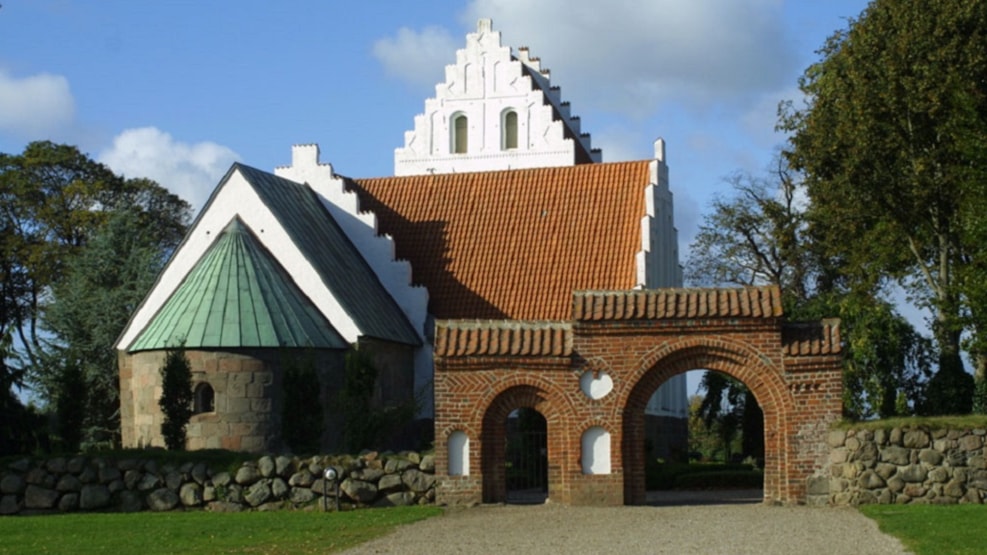 Skovby Kirke
Here you see the church with its own gate for horse-drawn carriages - and the beautiful medieval church is very large, because it was a county church.
Skovby was the administrative centre for twelve parishes until 1970, and as a result, the church was quite rich and large.
The church was dedicated to St Martin de Tours who left the army of the Roman Empire, travelled in Europe as a Christian missionary, and later became the Bishop of Tours in France. He was a popular saint in the Middle Ages.
The church in Skovby was built in romanesque style in granite ashlar on a double plinth. In the 15th century, the western wing and the tower was added.
Don't miss:
The room is roofed with a beautiful cross vault.
The picture of Trinity was made by the famous wood carver and artist Claus Berg ca 1500 AD.
The alterpiece was made by Kaj Louis Jensen in 1960.
The organ was built in 1974.
The portal outside the church is very large and impressive. It was built in the Middle Ages in the Gothic Style, and consists of a large port for horse carriages and a small door for pedestrians.
In the cemetery, 28 soldiers from the war of 1848-50 are buried. They died at the hospital at Harritslevgaard 1848-49.

There is also a family burial site for the Danish-German noble family Bardenfleth, who owned Harritslevgaard in the 18th century.