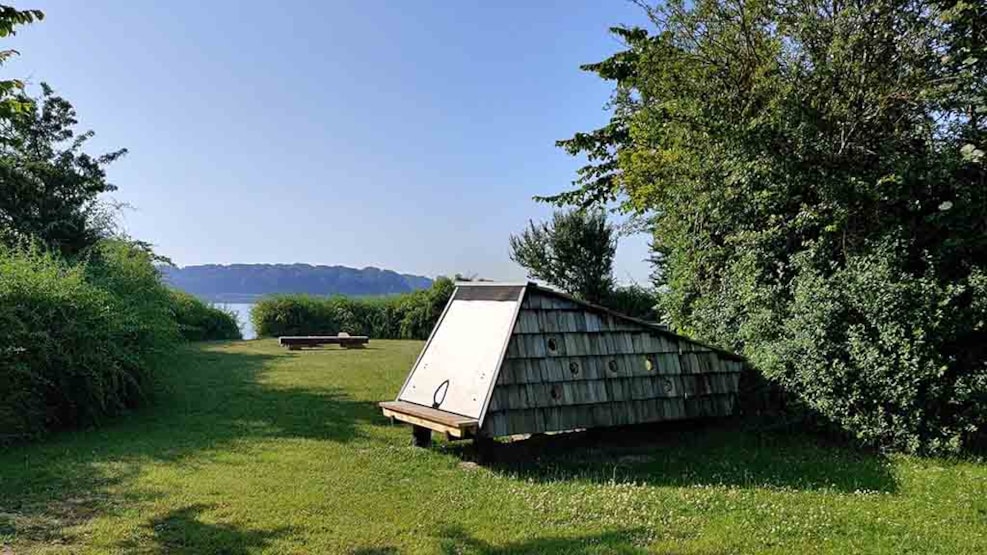 Shelter at Klintebjerg
Shelter site by the water close to Klintebjerg Harbour with two shelters, a campfire site, pizza oven, toilet facilities and drinking water - and an absolutely fantastic view of Odense Fjord! 
The shelters are located very close to the seaside so you will have the view of Odense Fjord and Vigelsø.

With the Harbour of Klintebjerg within walking distance and the wonderful nature around, relaxation will come naturally. Good fishing options and the possibility of renting a boat in the Habour of Klintebjerg.
At the shelter site there is a fire pit with a fire grate and benches - and a pizza oven so you can make the best pizzas! There are also benches and tables, nice toilet facilities and drinking water available. You will have to bring wood for the fireplace yourself.
Tents are not permitted.
In case you have forgotten marshmallows for the campfire or salt for your food, there are plenty of shopping options in Otterup city (5km)
The shelter area consists of 2 shelters with 2 sleeping spaces in each.
If you arrive by car there are parking options 50-100 from the shelters.
Booking