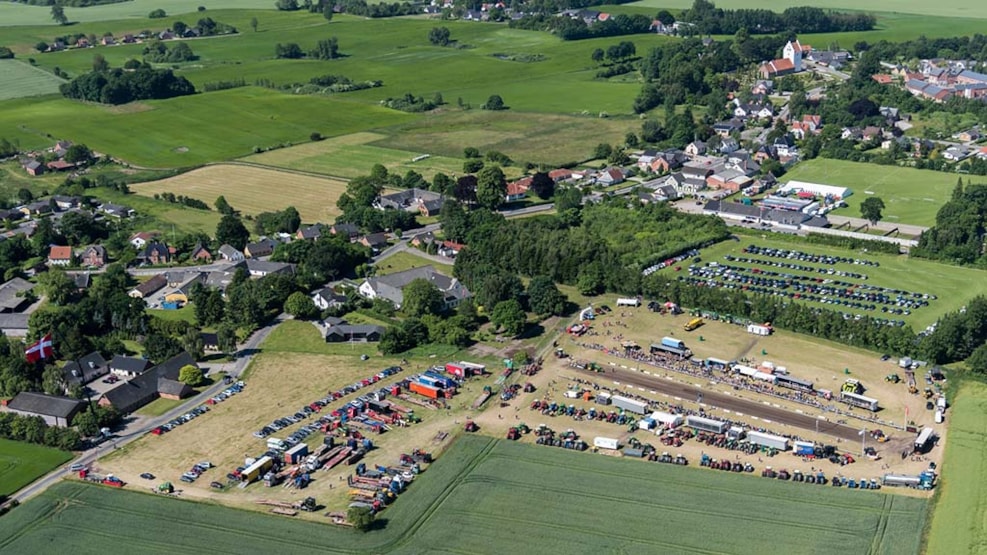 Særslev
The inheritance from a sea warrior and famous for its big annual tractor pulling show - Særslev between Bogense and Søndersø is a lovely little town with exciting stories!
When a town's name ends in -lev, it probably comes from the Viking Age. Lev means property or heritage. And Vikings called Sævarr were probably the ones to name Særslev in North Funen and several other places. Sævarr means sea warriors in Old Norse, so the name may mean the legacy of the sea warrior.
A cultural stronghold
Særslev is characterized by being a very long town between Odense and Bogense. Særslev has been a cultural stronghold. Road names such as Klaus Berntsensvej and Rasmus Nielsensvej tell about this.

What is now a boarding school called Nordfyns Efterskole began in 1882 as a folk high school set up by teacher and later prime minister Klaus Berntsen.
What do you find along the "main street"?
Going north, you'll find:

The town pond is located on the right side of the road. It is well maintained, and here you can take a rest and enjoy the view or perhaps the packed lunch.

In the middle of the town is Særslev Church, which is a road church, that is open to visitors during the day. Next to it is the vicarage from 1806 with half-timbered buildings and four chimneys.

Opposite the church is the school, which has pupils from preschool to 9th grade.

We pass the supermarket Dagli'Brugsen and then the community centre in the former inn. Immediately afterwards we have the old dairy, where there is now the nice café Café Det Gamle Mejeri.

Notice the many beautiful houses. Særslev is an architectural gem thanks to the skilled architect Kristen Kristensen, who was originally a trained carpenter, but became known as an architect. He designed more than 100 buildings between 1890-1930, and you can see several of his beautiful buildings along Særslev's main street.

When there is a distance between the houses, there is a fantastic view, and on a clear day you can look over the Little Belt to Jutland.

On the left hand on the field opposite Vestergade 63 is the mound Galgehøj, Galgadil, a roundabout where remains of an old fire grave have been found and where the gallows were placed in a courtyard for criminals and killers. The last execution took place in the early 1800s.

At Galgehøjen, in the Middle Ages, there was a sacred source, which was called the Møgild. According to the legend, it sprung after a virgin was harmed there. According to legend, the source had healing powers, and many came from afar to be cured of diseases.

Population: About 750.
Tractor pulling
The big event every year is when one of Denmark's largest tractor pulling events is held in connection with Særslev Sports Week in week 24.