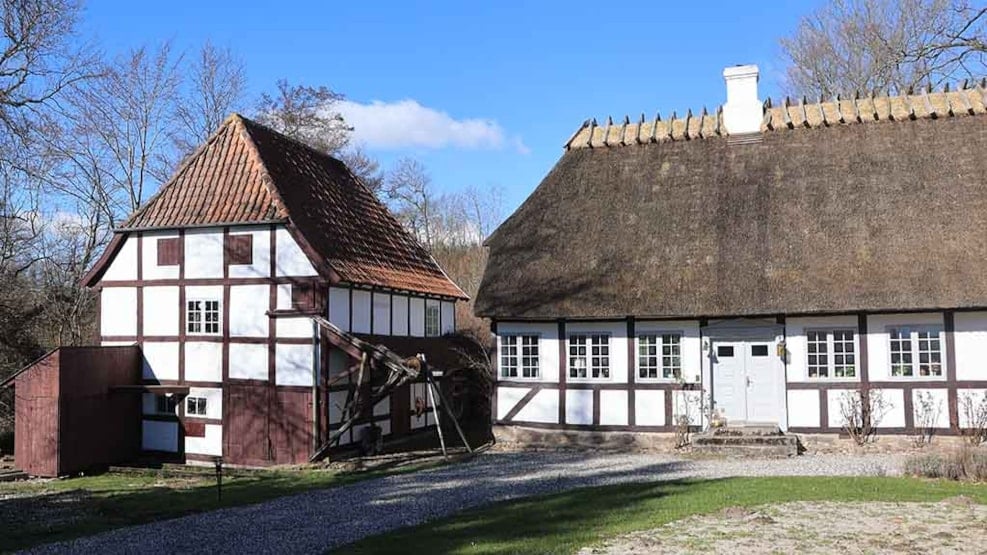 Røde Mølle (the Red Mill)
What's that lovely old building down the road? It is indeed Røde Mølle, which was once a sawmill under the Langesø Estate
The Red Mill Røde Mølle is an old water mill located close to Langesø Estate. The mill is located at the mouth of Sværup Mølleå, which flows into the river Stavids Å. The stream flows through the mill pond by the building.
The strong current in the stream provides plenty of energy for a mill, and there have been several mills on the site. The building is first mentioned in 1571 as "then red mill". The buildings at Røde Mølle were painted red, hence the name.
Røde Mølle and the half-timbered farmhouse were built around 1825, and at that time it was a grain mill. The mill burned down in 1831 and was rebuilt as a sawmill under Langesø Gods, which had extensive forestry at the time.
The mill was in operation until 1948, after which the mill was restored.
From Red to White Mill
Røde Mølle and the farmhouse are listed and have been restored several times. The Langesø Estate sold the buildings in 2015.
Today, both mill and farmhouse are painted white. The current owners received Nordfyn Municipality's cultural heritage award in 2020 for their work in refurbishing the buildings, which today are home and holiday homes for the modern family.
The mill is privately owned, and you can see the historic building from the road.