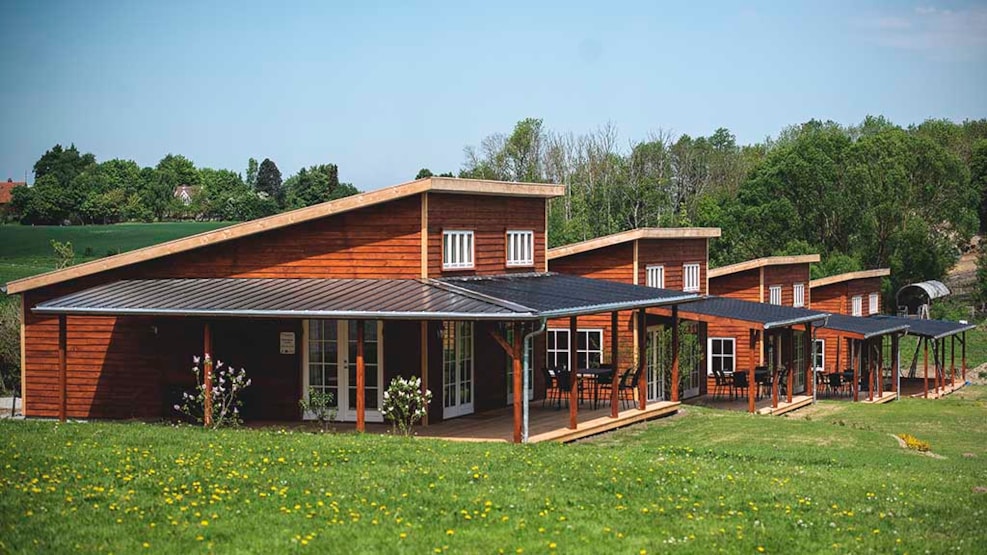 Prairie Houses at Ditlevsdal Bison Farm
Enjoy a stay in the beautiful scenery close to the big bison!
There's room for 8 overnight guests in each prairie house, divided into 4 rooms with 2 single beds in each that can be joined together. One of the rooms is a loft. In each prairie house there is a toilet, a bathroom and a small kitchen, a large living room that seats 12 people and a lovely terrace where you can have a barbecue and enjoy the view.
The prairie houses are named after the first bison bulls on Ditlevsdal, so you can live in the houses Gorbachev, Jupiter, Trolson or Goliath.
It is also possible to rent an open-air portable hot tub,  so you can enjoy your bath under the open air. The primitive hot tub can be rented on a daily basis, and guests can warm up the water with a fire made with wood provided by the bison farm.
Meeting facilities
The prairie houses can also be used for meetings.
The living room is large enough for 12 people to have meetings there, so they can also be rented on an hourly basis. Ditlevsdal can provide a projector, a screen and WiFi.
This and catering can be purchased according to your wishes and needs.