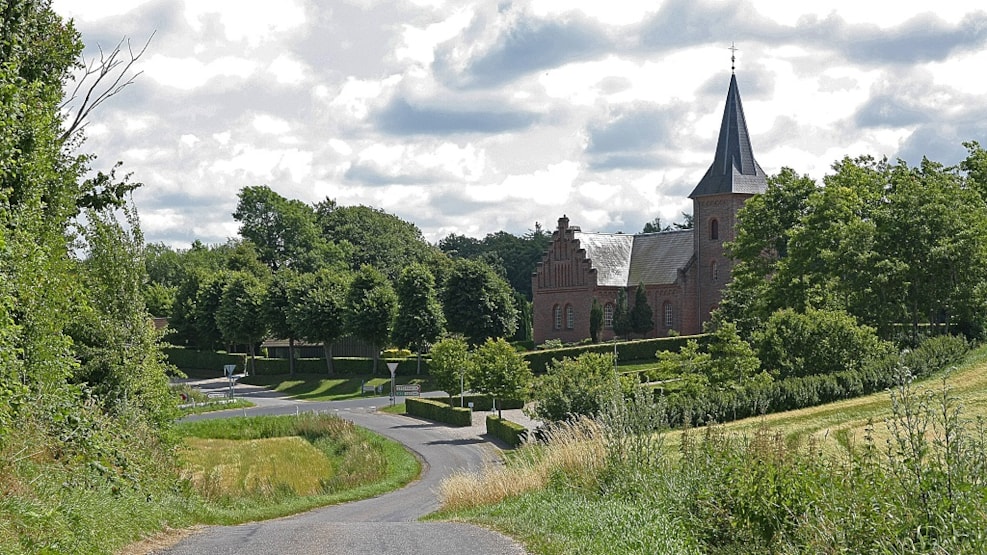 Padesø kirke
The beautiful church on the hilltop at Assens Landevej is Padesø Church, which was built in 1881 and is a beautiful landmark for the area.
Where the road turns, you'll find one of Nordfyn's most beautiful churches located on a hilltop. Padesø Church was designed by architect Hans Andreas Wilhelm Haugsted (1832-1912). The church was built 1880-1881 and was restored in 2004.

The church is a so-called cruciform church built in red bricks with slate roofs. The tower has a spire and is just over 26 meters high. On the spire is a gilded ball with a cross. There is an entrance from the tower, which is located at the western end of the church towards Assens Landevej.

The pulpit is made by a carpenter from Odense after a model of the pulpit in Gråbrødre Kloster (the former Franciscan Monastery which became a a Hospital Church) in Odense, and on it you can see plates with biblical scriptures, which are surrounded by gold.