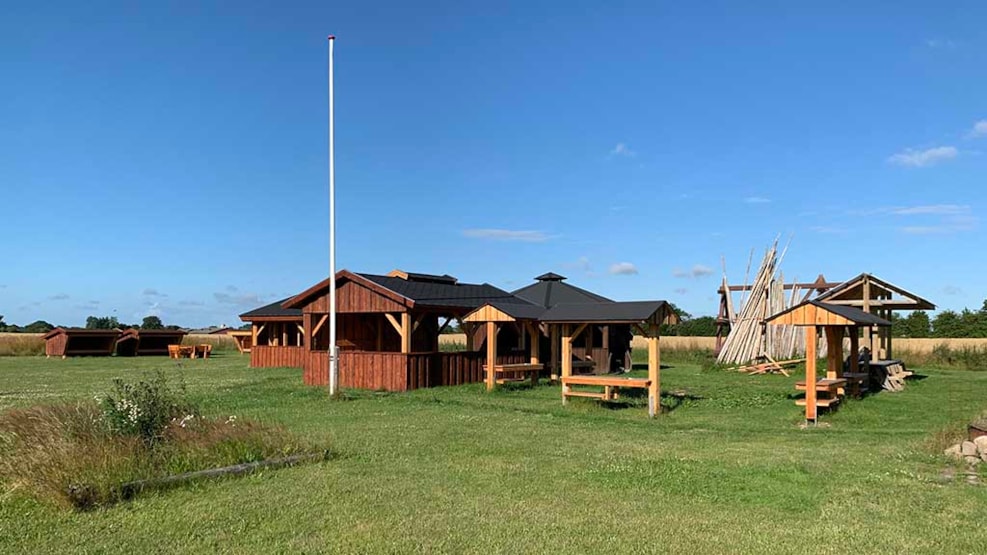 Otterup Outdoor Oasis
Hammock hotel, shelters, lunch cabin, campfire cabin, outdoor kitchens and much more - Otterup Outdoor oasis is truly an oasis for everyone who enjoys life outdoors!
Otterup Outdoor Oasis is located in beautiful green surroundings on the outskirts of Otterup. There is plenty of space in the green areas outside. The oasis is owned by the Blue Scouts from the 1st Group Otterup, whose scout cabin is in front of the oasis, and everyone is welcome - nature lovers, families with children, cyclists, hikers, scouts, friends and many others

On the square you will find:
A large campfire hut with benches and with a shelter with room for four to five people
A hammock hotel with posts where your own hammocks can be hung on. There is room for 24 hammocks
Four shelters with room for three to four people in each. Dimensions are 2.2 m x 3 m.
Table-bench sets at the four shelters
Five outdoor kitchens in the form of a covered table with sink, where you can prepare the food. Remember to bring cutting boards, knives, pots and all other kitchen equipment
A lunch cabin, ie a covered house with four tables / benches
Campfire site
The toilet, where you get access via code when you have booked a shelter
Water: There is an outdoor faucet that can be opened if you ask for it when booking.
You can buy firewood at the gas station OK-Plus in Otterup, Søndergade 30, Otterup approx. 1.5 km from the oasis.

It's possible to park the car in front of the scout cabin, approx. 100 meters from the oasis.
Prices for rentals for 24 hours from 14 to 14
Whole oasis: DKK 600
Campfire hut with shelter for 4-5 people: DKK 200.
Shelter 3 m wide, 3-4 people: DKK 40 per. person. The whole shelter: DKK 150.
Hammock hotel: 24 hammocks. Price per. person is DKK 50. Price for a group of 6 people: DKK 200.

The lunch cabin, the fire pit and outdoor kitchens can be used free of charge.
Rules
You must not sleep in the oasis if you don't have a receipt that you have paid.
Tents must not be pitched on the site.
Dogs, horses and other pets are not allowed.
Remember to take all waste with you again.

There is video surveillance on site