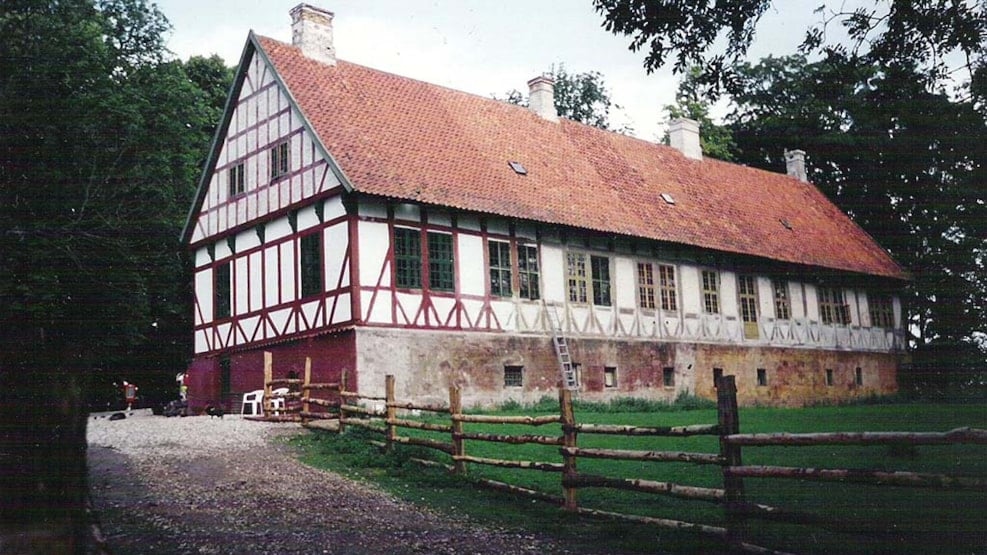 Oregaard
At Ore, you can see a large beautiful half-timbered building from the road. It's Oregaard - an old manor house with stories of both witchcraft and old domestic animal breeds ...
Oregaard is a very old manor house which was mentioned in 1231 in the book of the king Valdemar Sejr's lands. At that time, the farm was crown property, that is, it was owned by the king. Ore meant an overgrowth, a rocky field with trees, so the name indicates that it was not the best agricultural land. On the other hand, cattle have been kept on the farm and there is still a dairy wing of the building left over from old times.

The main house is a half-timbered building, which was erected in the 1580s by the big estate owners Margrethe Rosenkrantz and Hans Lindenov. They owned, for example, the manor houses Gavnø and Dronninglund, but Hans Lindenov died in 1696 at Oregaard, and his wife accused the bailiff and his wife of being guilty of Lindenov's death. A wax doll was found buried under Lindenov's noble chair in the church, and the bailiff and his wife were convicted of witchcraft by the Ore birch thing assembly and burned.

Oregaard has had many owners, but in 1719 the farm was bought by Gyldensteen's new owner Jean Henri Huguetan, a banker who fled from France and settled in Denmark, where he created the county Gyldensteen, of which Oregaard became part. At the fief dissolution in 1923, when the large estates were forced to sell some of their lands, Oregaard was sold from the property. Today, not much land is left at the farm.

Oregaard is home to old Danish cattle breeds, and there has also once been an animal park on site where you could visit the animals. Today, however, it is only possible to see the farm and the ground from the road.