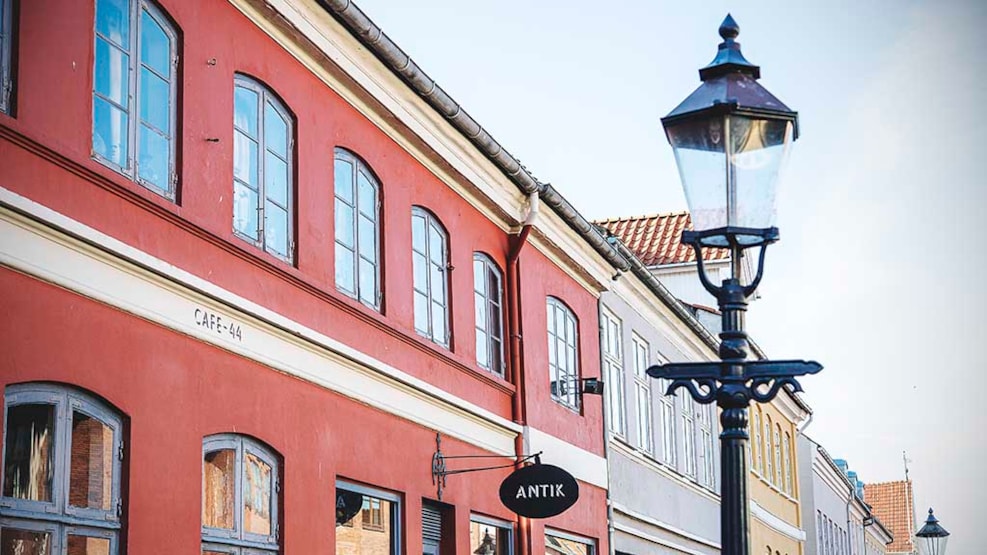 The Oldest House of North Funen
You'll find North Funen's oldest house in Bogense. The house is more than 600 years old, and in that time it has witnessed many dramatic events.
The house was built in 1420 and rebuilt about 1660, but there are fragments beneath the house dating back to the 13th century.
Remains in the soil layers of mining houses from the Iron Age have also been found around the house.
Bryggergården
This means there are more than 600 years of history in this place. The building is locally known as Bryggergården - the brewery. From the middle of the 19th century, there was a brewery in the side wings and a stock of brandy in the old vaulted cellar under the house. Throughout the 20th century there have been many kinds of shops, as is often seen in old houses. There has been a café and pub, a hardware store, greengrocer, crafts and now antique shop. But before 1900 it was a large four-storey grocery store with all kinds of goods besides beer and snaps.
The mayor's residence
However, it is the time before 1800 that is the most exciting. The old basement was originally not a basement at all, but a room you could enter from the street. It is only because, for centuries, one street layer has been placed on top of the other, that the raised street level makes the room appear like a basement. Back then, the house was the mayor's residence and home to the noble family called the Bogense Lords. The space has been a town hall, and the town's affairs have been debated and decided in this space for many years. It is believed that the room also served as a chapel for a number of years for the dead mayors before being laid under the floor of Bogense Church. Here, too, have been shelters during centuries of wars. Many citizens of the town can still remember their stay in the basement during World War II.
Antonia
The worst war was probably the Swedish War 1657 - 1660. The story goes that the mayor hid his daughter and the town's silver treasure in a room under the house. When he did not want to reveal where the silver was hidden, the Swedish soldiers killed him, and his daughter Antonia perished in the secret room where she remains to this day. At the same time, the Swedes burned most of the house down. As the house stands today, it is built on the remains of the old ruins from about 1660.