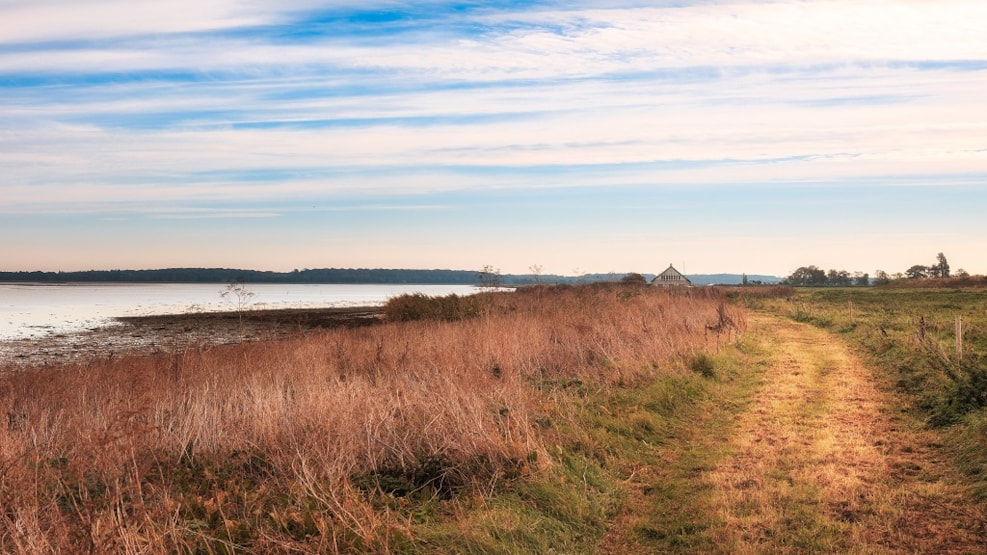 The Nørreby Hals Route
The Nørreby Hals Route is a 5.3 km long, marked hiking route through beautiful nature by the beach and field - enjoy a nice walk by the coast!
The Nørreby Hals Route partly follows the beach to the west, from where there is a nice view to Æbelø, and partly follows asphalt roads through a varied landscape with open fields and hedges to the small cozy village Nørreby.

You can relax and enjoy the food or coffee you brought with you to the picnic area by the beautiful old fire engine house.
Unique nature
You can see many birds on your trip, so remember to bring binoculars!
It is especially waders, ducks, geese and swans that "refuel" on the way north or south, and the Nørreby Hals path crosses the Ramsar and NATURA 2000 Bird Protection Area. The beach is adjacent to the Nærå-Agernæs wildlife reserve. If you can stay quiet, you may also be lucky enough to see the sea eagle from Æbelø hunting in the area.
Nørreby Hals itself is a large beach ridge and - as the name hals, meaning neck, suggests - a neck that extends to the east and separates the water areas Agernæs Flak in the Kattegat from the nor Nærå Strand. A nor means a narrow channel of water, a type of small fjord.

Nørreby Hals is a protected area and owned by the Danish Nature Agency. The meadows are tended by cattle every summer. They eat the grass, giving room for wild flowers and plants. So during the summer, you can also see the great Galloway cattle in the area going on with their their great task and interest, namely to eat all they can.

You can also collect some delicacies from nature here: In the shallow water there are mussels that you can collect for your own use, and on the beach grows European sea rocket that is perfect as a sprinkle on the mussels.
Parking
You can park the car at the car park by the beach by the road Nørrebystrand or at the car park located just after the address Halsvej 49. There is a sign indicating the car park.