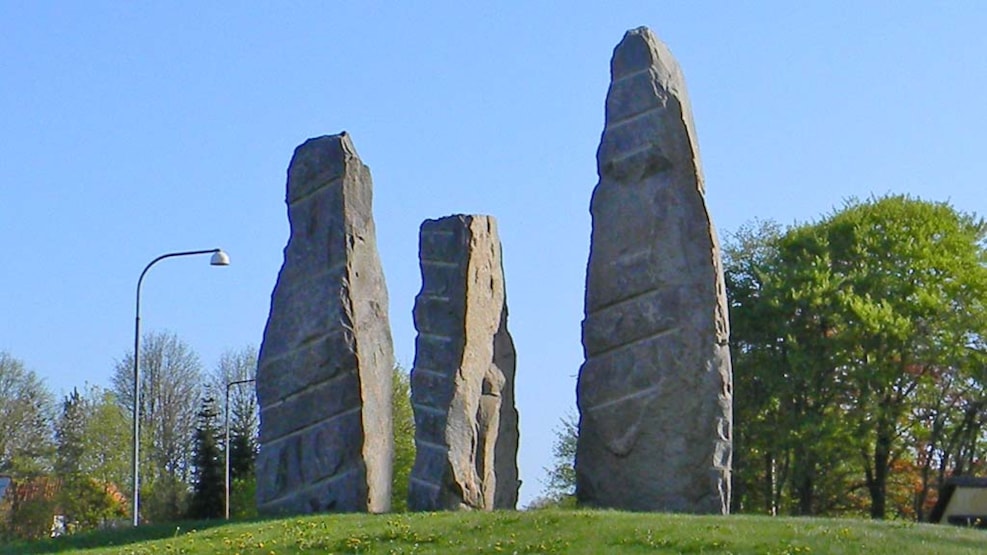 Monoliths in Otterup
When you come by car to Otterup from Odense, you'll be greeted by three monumental stones at the roundabout. They replace several former monuments that have been destroyed - and they also have a special meaning!
WHY SET UP A MONUMENT? There are many reasons why the monoliths in Otterup were erected.

"..and he was buried and a monolith was set up." This is a not unusual utterance from the Islandic Chief, writer and historian Snorre Sturlason finishing his narrative of a renowned person in the Norwegian king sagas - written about 1230 ( contemporary with the Danish writer Saxo).

For many years - up to the end of 2006 - three pollarded poplars in the town crest symbolised the municipality of Otterup.

The three monoliths in the roundabout south of Otterup have been set up in memory of the poplars, the previous municipality and its active citizens.
The three monoliths also replaced the four-meter high ceramics obelisk that once stood in Otterup. It was destroyed by a car, but the heavy granite bautas last longer.
The three monoliths have a height of three, four and five meters and weigh a total of 20 tons.
At the same time, the three monoliths also symbolize the three municipalities Bogense, Otterup and Søndersø, which were merged in 2007 and became the municipality of North Funen.
The three monoliths are a work of the local artist in Bårdesø, Jørgen Meier-Larsen.