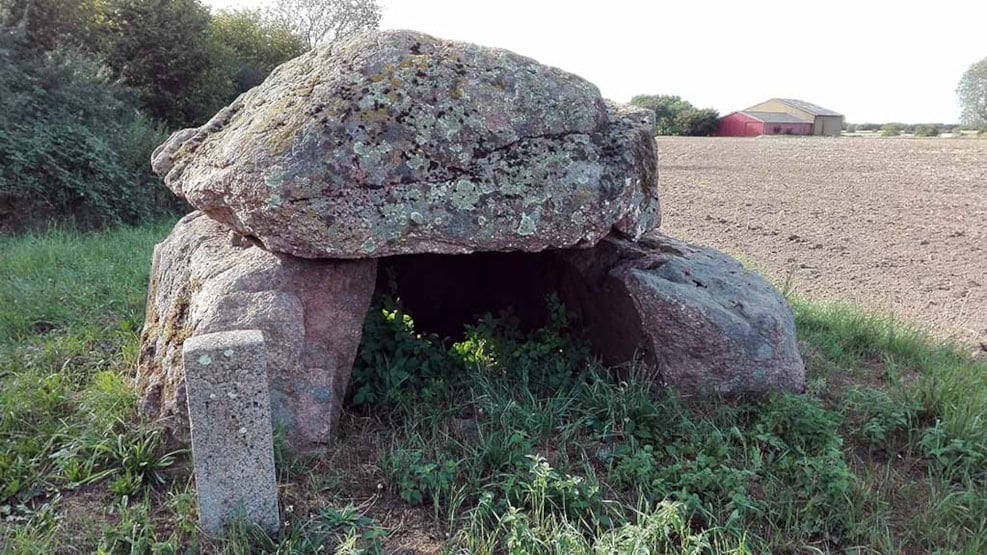 The Long Barrow at Stensby
The long barrow at Stensby testifies that people have lived here at Søndersø for several thousand years - come and experience our past!
Behind the fence along the Sandvad village, there appears a beautiful little long barrow. It was once covered by earth, but now it stands as an open burial chamber, which consists of three large carrier stones and a cap stone. The chamber faces east. It is 1.5 m wide in the west and 1.2 m in the east, where it is open. The chamber is 2.5 m long and about 1 m high. The stones are apparently selected carefully, as they are of the same reddish rock.

There are at least 18 cup and ring marks on the cap stone, symbols of fertility and the sun.
DIRECTIONS:
Drive from Søndersø towards Otterup along Sandvad. The long barrow is on the left. A wooden staircase goes through the fence. You can park in a grassy car park in front of the fence. A small wooden pole with a stylized long barrow on the parking lot shows the way.

Be prepared for slightly uneven terrain and nettles.