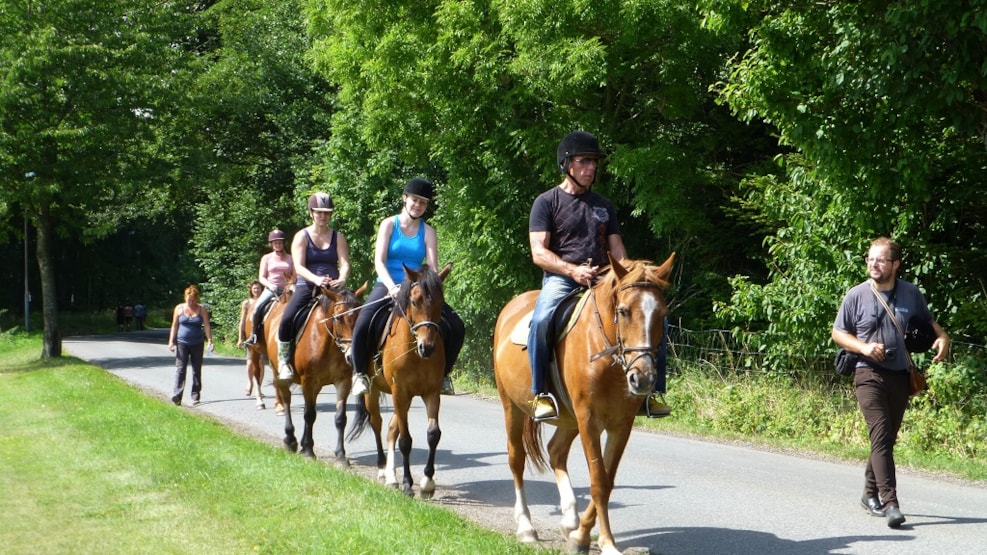 Horseback riding from Bogense
It's time to go on a ride! There are guided horseback rides Tuesdays and Thursdays 4 July to 10 August - for children and adults!
North Funen by Horse
Go horseback riding through the scenic countryside - in the woods and on bridle paths or the course at the riding school.
Guided tours on friendly horses. There is a horse for everyone, big or small, beginner or intermediate.
When
There are guided horseback rides Tuesdays and Thursdays from 4 July- 10 August.
The tour begins at 10 AM. Please be there some time before in order to get to know your horse a bit before the ride.
Booking
Booking is necessary! Price: DKK 240,-
Please note that booking a child ticket does not depend so much on age as on size. Child tickets are for smaller horses. A very tall 14-year old should perhaps book an adult ticket. In doubt? Contact the riding club at +45 40 16 66 25.
Please note that if the child is somehow unsure about riding, then an adult who knows the child must help and walk next to the pony.
Your own trip
It is possible to go on a horseback ride at Bogense or in the riding house - even when it is not summer. Contact Hestehavens Riding Club on +45 4016 6625 and get an appointment for a horseback ride!