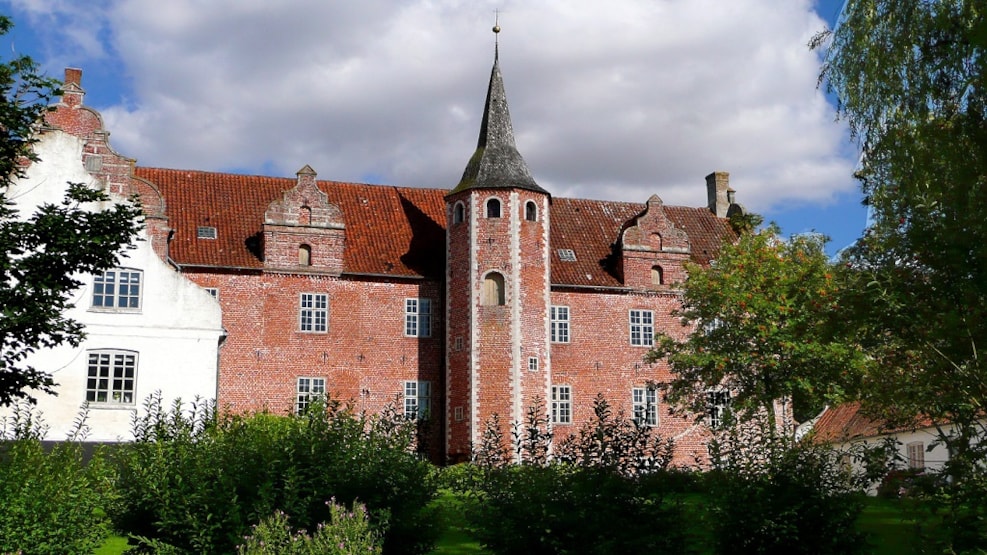 Harridslevgaard Castle
Harridslevgaard is the only castle on North Funen where you can get a look inside. Visit the pretty renaissance castle that was once a hideout for robbers and thieves!
Harridslevgaard Castle near Bogense is the only manor house on North Funen where you can get a look inside. The castle was first mentioned in 1231, but the present main building dates back to 1606. In the past, the water went right up to Harridslevgaard, which according to legend was a pirate castle.
Harridslevgaard has been restored over the years and it's furnished with splendid antique furniture and features much fine detail. Visit the attractive rooms with fine furniture and enjoy the views of the garden where peacocks strut around. The impressive great hall is the largest of its kind in private ownership in Denmark. The medieval cellar was constructed before the present castle building. It has attractive vaulting and also contains the castle's large kitchen.
Opening hours 2021

The castle is open to visitors on Easter holidays, Pentecost holidays, Summer and the autumn holidays - come and have a good experience.
And don't miss the beautifully decorated castle when Harridslevgaard opens it doors with Christmas market on 4 weekends in November-December.
Guided tours for large groups are available by arrangement all year round.
You can also get married in the castle! Various rooms can be hired for conferences, meetings, weddings and dinners in extraordinary surroundings.
Opening hours 2021
Christmas opening hours: 
22/11-12/12
Saturdays and Sundays
11 a.m.-6 p.m.
Opening hours 2022
Easter:
The castle is decorated for Easter, and you can buy Easter items.
10/04, 14/04, 15/04, 17/04, and 18/04
13:00-17:00
Store Bededag (Great Prayer Day):
13/05 and 15/05
13:00-17:00
Feast of the Ascension holidays:
26/05 and 29/05
13:00-17:00
Pentecost:
05/06 and 06/06
13:00-17:00
Summer 27/06-31/08
Monday-Friday 11:00-17:00
Sunday 13:00-17:00
Closed on Saturdays
Sundays in September:
04/09, 11/09, 18/09 and 25/09
13:00-17:00
Fall holidays:
16/10-22/10 and 23/10
13:00-17:00
Christmas:
The castle is full of Christmas decorations, and there's a big Christmas market in the Knight's Hall
19/11, 20/11, 26/11, 27/11, 03/12, 04/12, 10/12 and 11/12
Saturdays and Sundays
11:00-18:00