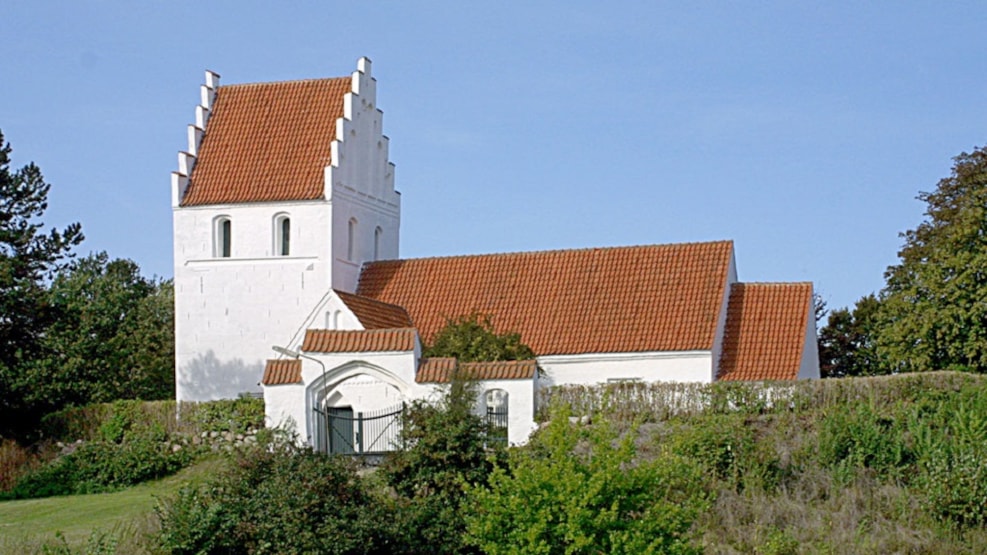 Guldbjerg church by Bogense
Guldbjerg Church is situated beautifully on the hill above the road, and the lovely old village church close to Bogense brings back memories of the old days in the countryside.
Guldbjerg Church sits a little lonely and elevated on a hill a little outside the village Guldbjerg. The area is otherwise very flat moraine plain, but right here runs the Grindløse esker ridge, and the church hill is its westernmost point.
According to legend, the church was built here because no one could agree on where the church should be located. So three bulls from each end of the parish were let loose one night, and since it was a stormy night, they all three sought shelter behind the top of the hill - and thus they had chosen the location of the church.
The church was built in the 13th and 14th centuries and has been rebuilt and enlarged several times. The original building was quite small, and the nave was only 9.5 m long.
The church belonged to the Crown until 1696, when the owner of the manor Gyldensteen (then called Enggård) received a deed to both Guldbjerg Church and Nørre Sandager Church. The church became independent in 1914.
Worth a look
The pulpit is from 1648 and in cartilaginous baroque with statuettes. There are three noble arms for Gregers Krabbe and his wives Hedvig Rud and Dorte Krabbe, the Daa family, as well as Erik Qvitzow and Susanne Juel. It may have been moved from Nr. Sandager Church.
Baroque-style altarpiece from 1710. The frame was donated by State Councilor Ehrenschild. The painting was put up in 2011 to replace a very dark painting of the Crucifixion from 1801. The new painting is painted by the famous Bogense artist Frank Hammershøj and depicts the legend of the giant Kristoforus, who carries Christ on his shoulders and then goes out into the world to preach about Christ because his faith is as great as his strength.
Between the nave and the entrance there is half of a door with with wrought iron bands, one of which carries the inscription 'anno 1632, when Lars Oelsen had this church door made, Jørgen Smed (Blacksmith)'.
Access
It is possible to access the church, just contact the pastor and staff.