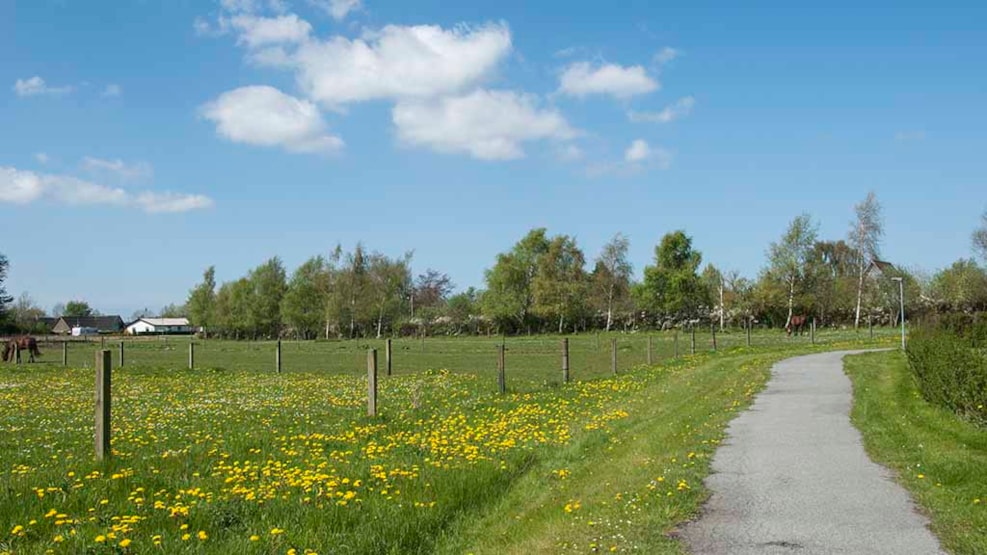 The Green Path in Otterup
The beautiful trail of a total of 8.4 km takes you around the green areas around Otterup, the Viking past and a walk through the town of Otterup itself!
The Green Path is a path that runs along the green areas around Otterup. The path follows the water channel Søndre Landkanal past several small lakes and goes back to the town by Otterup Moor and Otterup Town Forest. Here you can enjoy the beautiful nature and rolling rapeseed and grain fields only a short distance from the city. On the path you will also pass Otterup Dog Forest.
The route all the way around is 8.4 km.
You can travel the path both on foot and by bike.
The Green Path takes a turn past the small hilltop Galgedil by Fresiavænget. People have lived here for thousands of years. Traces of settlements have been found from the Neolithic (4,000-1,000 years BC), Late Bronze Age (1,000-500 BC), Early Iron Age (500 BC-200 AD) and Late Iron Age (700-1000 AD). A large burial ground from the Viking Age has also been excavated. In the 900s, more than 60 people were buried here, who were given keys, beads, weapons and food in the graves. It is actually after the graves that the hill got the name Galgedil (the gallows) - in the 18th century they started to collect sand here and discovered the skeletons under the sand. Therefore, it was assumed that there had been a gallows here.
Today there are no Vikings, but there is a wonderful view of the flat plain landscape.
2007 and 2022
The Green Path goes around Otterup, and here you have the opportunity to take a green respite close to the town on foot or by bike. The first part of the path was made in 2007, and in 2022 the ring was completed with a stage that connects the path in the east at Otterup Dog Forest with the path in the west at Otterup Town Forest.
The new part of the route leads you along green roads and green oases through the city, over the bridge, past the city's town hall, square and library, through the city park and residential area.
The new stage is 3.4 km, but there is the possibility of a detour of just 2 km.