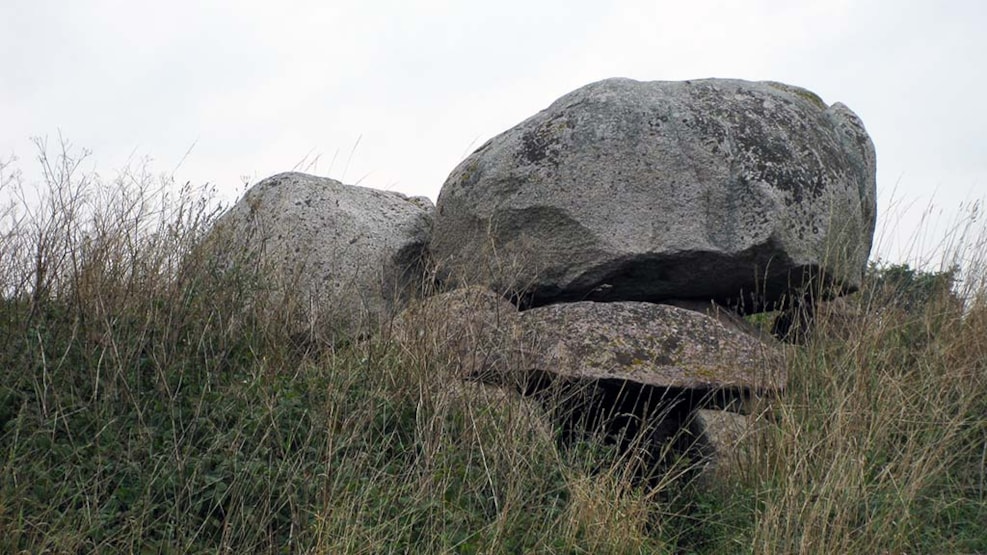 Gåsestenen (the Goose Stone)
Despite its name, the goose stone is not a stone with a goose on it, but a round mound and burial chamber. In turn, the top stone has the shape of a large goose egg.
Gåsestenen, which means the goose stone, is the name of a passage grave from the Neolithic age.
The pear-shaped chamber consists of 7 stones and 2 capstones. The hallway leads out to the east and is made of two stones facing each other with a capstone. There are at least two cup and ring marks on the northern top of the chamber. A cup and ring mark is a 5-10 cm concave depression in a stone which is considered to be a symbol of female fertility or perhaps a sun sign. Most of the cup and ring marks are from the Bronze Age.

A few skeletal remains, flint tools, amber and ceramics from various ages were found during excavation and restoration of the tomb in 1954.

A passage grave is a monolithic stone monument. As the centuries passed, people forgot they were used as grave monuments, and people believed that the giants had built them. The passage graves were built during a relatively short number of years in the Neolithic period around 3300 BC. They have been used for several funerals over the centuries, also in the Bronze Age. Therefore, there are finds from many ages.

A passage grave consists of a chamber and a hallway leading into the chamber. Originally, all passage graves were covered by soil with bricks at the entrance, but often parts of or all of the soil has disappeared due to weather and wind, plowing or grave robbers; or maybe a combination.
DIRECTIONS:
From Route 162, turn down Emmelevvej at Danish Agro. Follow Emmelevvej through Emmelev on Pugholmvej. At the end of Pugholmvej, you continue to the right along a dirt road. The goose stone is on the left.

Be prepared for uneven terrain and nettles.