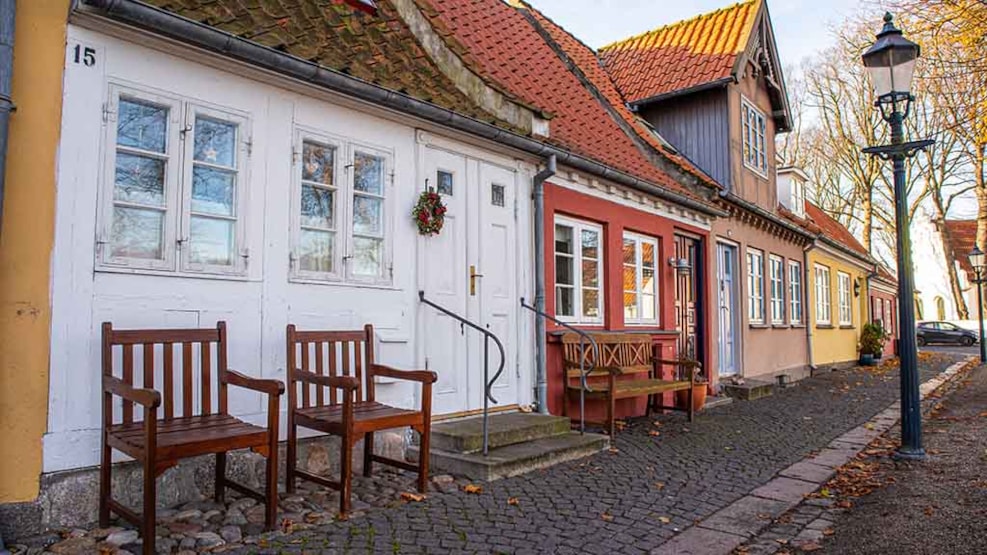 Funen's smallest house
It's easy to overlook, but it is located right there at the town square in Bogense: One of Denmark's smallest houses - with only 23 square meters!
At Torvet 15 in Bogense, a family once lived with mother, father and five children - they probably couldn't have lived like that today, because the house is only 23 m².

The small house on Torvet 15 was built in 1827 in an attractive location at the town and market square in Bogense, right in front of the church. The small house would've been easy to heat when a tiled stove was needed. The house has been renovated several times, most recently in 1997. There is a long, narrow garden for the house, and today there's a small outbuilding for the house. Today the house consists of two rooms, a kitchen and a bathroom.

Many of the houses on Torvet are small and very well preserved, but in fact some of them that been combined for one building, even though from the outside they appear to be two different houses. But the small house on Torvet 15 has been allowed to remain as it was. Therefore, Torvet 15 has the status of the smallest house in Bogense and one of Denmark's smallest houses.
The house is privately owned and is used as a holiday house.