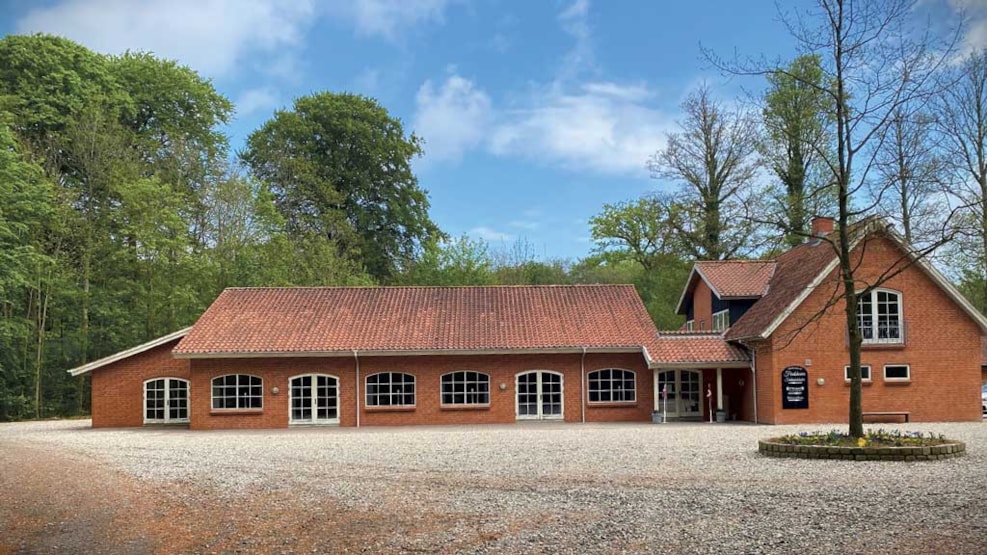 Fredskoven - Venue
At Fredskoven you can rent rooms for parties, conferences, meetings and courses. Here you can enjoy the beautiful surroundings of the forest and the modern rooms.
Fredskoven is located in the heart of Bogense with beautiful old treetops around the pavillon.
Here you can rent rooms for parties, conferences, meetings, and other events.
You can arrange the event 100% according to your own wishes and needs.
Enjoy the quiet and romantic surroundings in Fredskoven!
Rooms and kitchen
The function rooms consist of a large and small hall with associated cloakroom, toilets, hall and a professional industrial kitchen.
The great hall is approved for 500 dining guests.
The small hall has room for 30 guests depending on the event - with / without dining and with or without buffet etc.
There are tables in two lengths as well as round tables available. There is also everything in cutlery and crockery available.
In the industrial kitchen there are a large freezer and large refrigerator, a large industrial dishwasher and a small dishwasher, a gas burner and a large oven.
It is possible to rent projector and stage modules.
The old and the new Fredskov
The original Fredskov was a pavilion that as far back as 1862 was a popular excursion destination for the Bogense citizens, who used the area for summer rides. Among other things, there was live music every Sunday with the town's music corps, where the citizens could enjoy lunch in restaurant Belvedere and it was a tradition in many families that you should walk in Fredskoven and enjoy the morning coffee on Pentecost morning.
In 1984, the old pavilion burned down in a violent fire, and a new and modern restaurant was built. Here, a disco was set up for the young people as well as a restaurant and banquet rooms.
Today, the modern function rooms are again available in the beautiful surroundings of the forest.