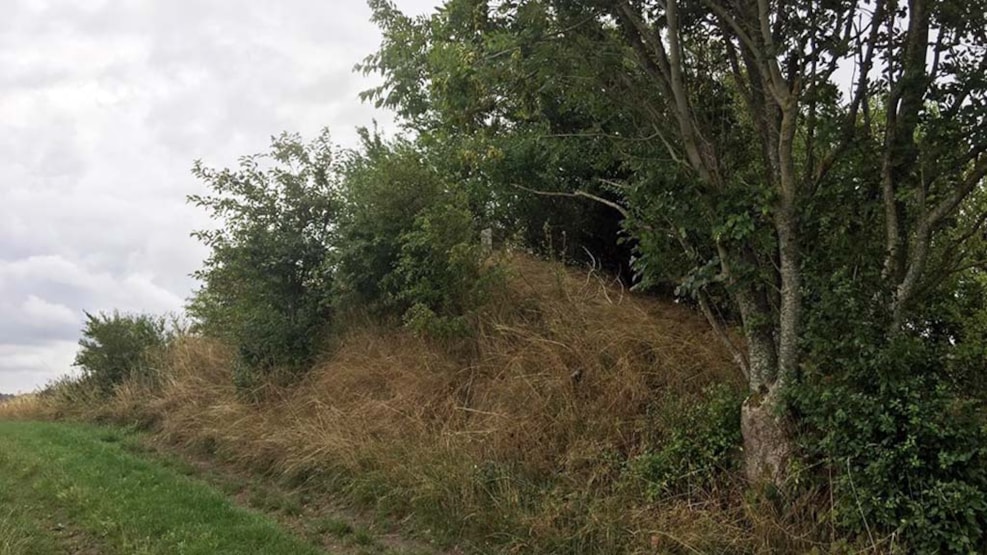 Finshøj
If you dare, you can visit the round mound Finshøj, where the troll Fin lives. He's got a bad temper, but he hasn't been heard from for hundreds of years ... so we shouldn't wake him up!
Finshøj or Findshøj is the southern half of a round barrow.
According to legend, it is home of the troll Fin, who among other things threw stones against Skamby Church when it was being built. Obviously, his aim was quite bad, because the stones landed much further away on the fields at Stensby (hence the name, which means Stone Town).

Then he threw a very large stone. It landed in Søndersø and is today placed on Carlsvej. In the end, he was so mad that he went down to the church and kicked it, but he was only able to make a recess in the pedestal, and today one can see the troll's footprint on the church in Skamby.

Stone barrows can be both both small and large, covered by soil, or completely or partially exposed because the soil has been eroded over time. In this way we got the iconic megalithic tombs in the landscape consisting of several megaliths with a large flat capstone.

They were built in the middle of the Neolithic period from 3500 to 3200 BC. In the beginning, the tombs were small and intended for a single funeral, but later they got an entrance so they could be used several times. This developed even later to the passage graves with narrow passages to the burial chambers.

DIRECTIONS:
Go along route 327 between Odense and Grindløse. On the right side just before Nørre Højrup, you can see Finshøj. It can be seen from the road or visited if there are no crops on the fields.

Be prepared for uneven terrain and nettles.