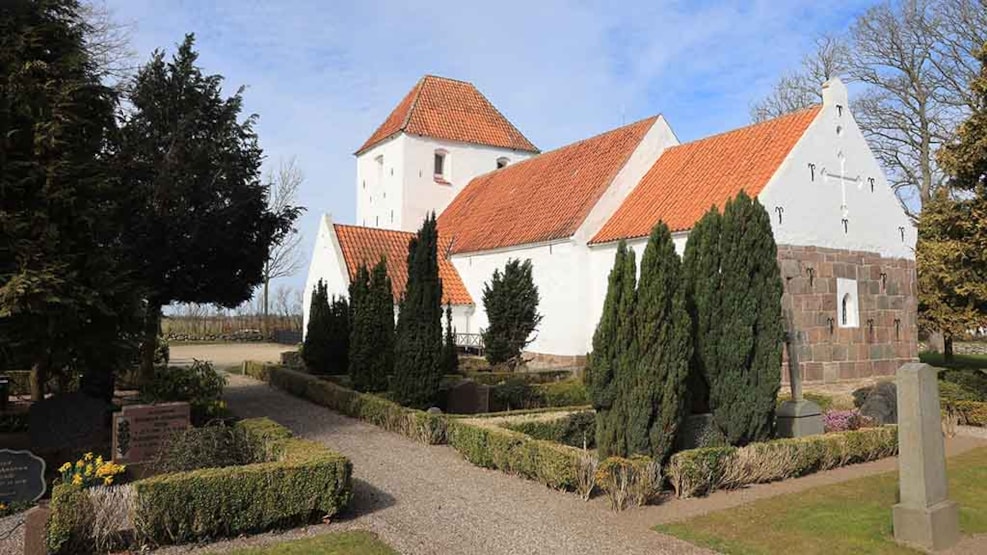 Ejlby Church - Søndersø
Ejlby Church sits so beautifully in the countryside in the small village of Ejlby between Bogense and Søndersø. The church was once dedicated to Saint Ursula and was ravaged by Sweden's soldiers, but today it is a really pretty village church.
Ejlby church is a Romanesque medieval church from approx. year 1200.
The church was originally dedicated to Saint Ursula, who according to legend was a Christian princess who went on a pilgrimage through Europe before her marriage. In Cologne, she and the 11,000 virgins who traveled with her were killed by the Huns. She was a very popular saint in the Middle Ages. After the Reformation of 1536, the images of her and her virgins disappeared from the church.
The church has been rebuilt several times, including the tower that once had a half-timbered upper part with four gables. The tower fell in the 17th century, i.a. after the Swedish Wars in 1657-1660, where Swedish soldiers and mercenaries looted and ravaged Funen, including the churches. Therefore, a lot was renovated and built when they left. At the north side of the church, there is a portal with driveway and gate that is from around the 16th century.
The church was most recently taken over by the Crown after the Reformation, but from 1607 the responsibility - and the money the peasants paid to the church - was taken over by the nobleman Frederik Quitzow to Sandagergård, and since then the church has belonged to both the Quitzow family and Rugård, before it from 1687 came under the manor Jerstrup and from 1804 under the county Gyldensteen, which took over Jerstrup. In 1912 the church passed into private ownership.
Worth a look:
Carved male heads in the corners of the church's granite plinth.
Beautifully carved pulpit from 1609.
Altarpiece from 1781 with a painting of the Crucifixion of Jesus and a picture of the first sacrament.
Baptismal font from the 12th century in Romanesque granite with ropes and animal figures and leaf vines.