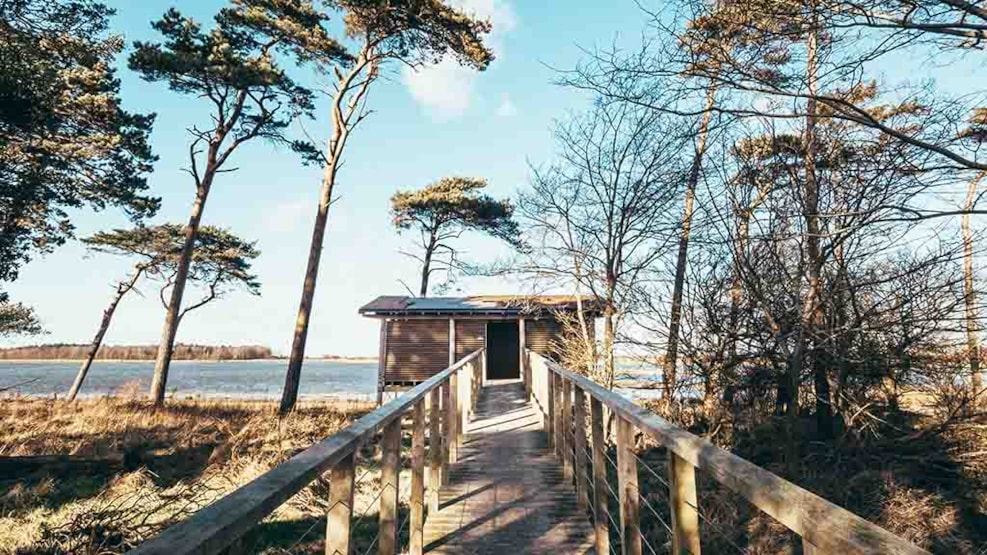 The Egense cabin at Gyldensteen Strand
Enjoy the impressive view of Engsøen from the bird watching tower the Egense cabin at Gyldensteen Strand and see how many birds you can spot!
Egensehytten (the Egense cabin) is a bird tower that offers an impressive view over the eastern part of Gyldensteen Strand and the large freshwater lake Engsøen (the Meadow Lake). There are lots of birds, because lake Engsøen is a popular place for both breeding birds and resting waders.
The road to the cabin goes via an idyllic forest road through the beautiful plantation Egense Plantage. Egense comes from the name eg-næs (oak half island), which tells us that there was a protrusion in the sea where oak trees grew. Egensehytten is also located on the old fjord shore, from before the area was dammed.
Engsøen (the meadow lake) at Gyldensteen Strand
The meadow lake is an approximately 133 ha freshwater lake with six islands, which was created after the Gyldensteen Strand area was purchased and transformed from agricultural land into a coastal area with coastal lagoon, freshwater lakes and beach meadows. The lake was flooded in the winter of 2013/2014 and reached its full level only a year later in the winter of 2015/2016.
There are several gull colonies, and other breeding birds include little grebe, gadwall, Northern lapwing, pied avocet and mute swan. It is very popular as a resting place for geese, wood sandpiper, ruff and many other birds. And there are also large birds of prey in the area such as the sea eagle, peregrine falcon, the hen harrier and the osprey. There is a board in the Egense cabin showing many of the birds that can be seen at Lake Engsøen. So remember to bring your binoculars and see how many bird species you can see!
How to get to Egensehytten
You can park in the car park at Egense Plantage, Gyldensteensvej 151 and walk along the forest path to Egensehytten. The path and the hut are accessible to everyone.