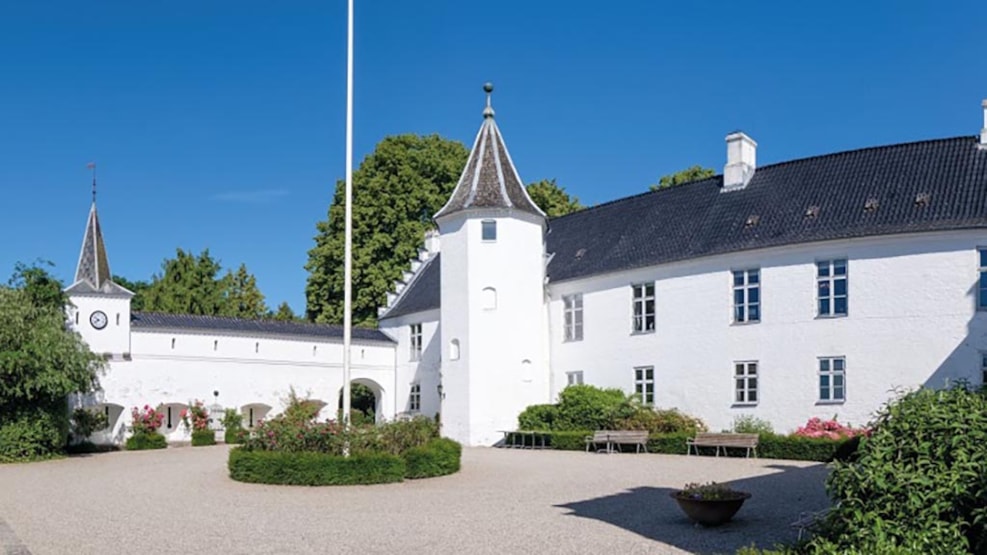 Green Experience
Dallund Castle - meeting, party and conference venue
Dallund Castle is the unique and exclusive setting for meetings, courses, parties and conferences in beautiful natural surroundings in the middle of Denmark.
Get a whole castle to yourself
You'll have the entire castle to yourselves, and you can freely use all the rooms, the park, lake, outdoor sauna and bonfire cabin without disturbing elements. When the last serving has been made and coffee and cognac in the castle's cozy library and bar have been set out, the staff will also go home. In this way, you can decide entirely for yourselves when the day ends.
Dallund's Castle Kitchen stands for a modern, informal, quality-conscious and green food philosophy.
The food is composed according to the season and with fresh organic ingredients. Everything is made from scratch and with a twist of love.
Dallund Slot has the organic food label in silver.
Rooms
The 24 rooms are all en suite, uniquely furnished with a mix of furniture classics and recycling. As guests, you can feel at home in the castle, and great effort has been made to create just the right atmosphere in each room.
Capacity
2 plenary rooms with space for 44 and 24 people respectively.
3 group rooms.
20 double rooms and 4 single rooms with private bath and toilet.
Total overnight stay: 44
Rooms in total: 24
Facilities
Uncomplicated plug-and-play CleverTouch screens and PolyCom for video conferences in both plenary rooms.
Wireless and free Wi-fi.
Possibility of different meeting arrangements.
Inspiration, team building and activities
Dallund Castle is surrounded by its own park, lake and forest. Here you can do all kinds of activities and be completely to yourself.
Create a break in your meeting day with a visit to Dallund Castle's cozy wine cellar. In the wine cellar there is space for about 20-25 people, and here wine tastings with sommeliers can be arranged; light meals can be served; it can be used as an additional meeting room; or simply for you to enjoy a cozy moment with a good glass of wine. The cellar exudes atmosphere and is capable of supplying some of the finest French and Italian wines.
A run in the forest around the lake, cozying up by the covered bonfire, or bathing in the lake followed by a visit to the outdoor sauna. These are just some of the things that lie ahead. It is also possible to sail on rafts, use paddle boards or go out on the lake in a rowing boat.
There is room here for both archery, clay pigeon shooting and whatever else you can come up with.
Traffic connections
Dallund is centrally located in Denmark, only 18 minutes from Odense and close to the motorway exit.
Sustainability
Dallund Castle has taken a number of sustainability measures:
Charging stations for electric cars
Less food waste
Garbage sorting
All rooms are furnished with a combination of durable classics and recycled furniture.
Energy-saving showers and toilets, energy- and water-saving white goods and light sources.
Eco-friendly cleaning agents, detergents and soaps.
1 extra bed in a double room if only 1 bed is to be used.
Vegetarian food as a starting point for lunch - meat can be added.
Beekeeping
Dallund Castle is CO2-positive, and the CO2 accounts are freely available on the castle's website.
CO2 allowances can be purchased to compensate for emissions during transport to and from the castle.
Prices and contact