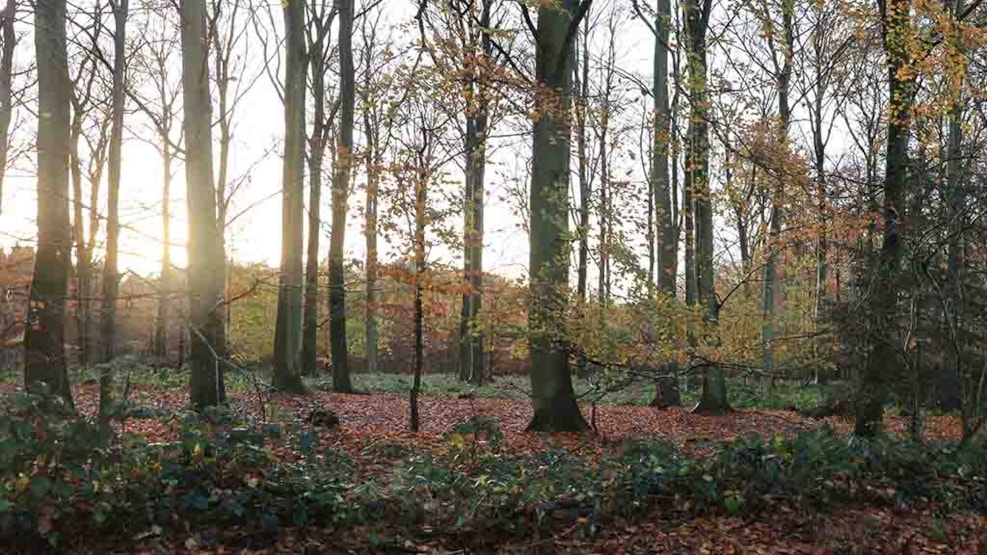 Dalene Woods at Roerslev
In the deep, quiet tranquility of the forest by Dalene you will find many traces of North Funen's past, and here it's also nice to walk under the tall trees!
Dalene - it means the valleys - between Roerslev and Bederslev is a beautiful forest with tall trees in a tunnel valley from the Ice Age. Here are two large burial mounds, and you can also see traces of farming from the Middle Ages.
There are many trails in the area from which you can see the forest and its historical traces.
Dalene is located in the plains, the so-called Sletten, which is the large, flat area that makes up most of North Funen. It is a so-called moraine surface created under the ice during the last Ice Age. Here also tunnels like Dalene were created by water currents under the ice.
There are many animals and birds in the forest, and you may be lucky enough to see fallow deer, the common buzzard, a raven or perhaps hear the woodpecker.
Traces of history
The burial mounds can be found about 1.3 km from Roerslev towards Dalene. Enter the first forest road to the right, hold once again to the right and after approx. 0.5 km you can see a mound on the left side of the forest road, the so-called Baunehøj, a burial mound from the ancient times. 300 meters further on the right side of the forest road, you can see Vesterhøj, which is a burial mound from the younger Stone Age. Baunehøj has its name because it was used for the warning fire - the baun.
You may notice the tall ridges when you walk in the woods. In the Middle Ages, there were fields here, and they were plowed with a mouldboard plough, which created a wavy shape of long tall ridges of 10-20 m width, separated by about 1 m deep furrows. The furrows will automatically collect and drain water, which means that in rainy years there is a good yield from the ridges, and in dry years there is a good yield from the lower part of the field.
Private forest
Dalene Skov is privately owned. This means that you may only be in the woods from 6 AM until sunset, you must not leave forest roads and paths, and you must follow the signs.