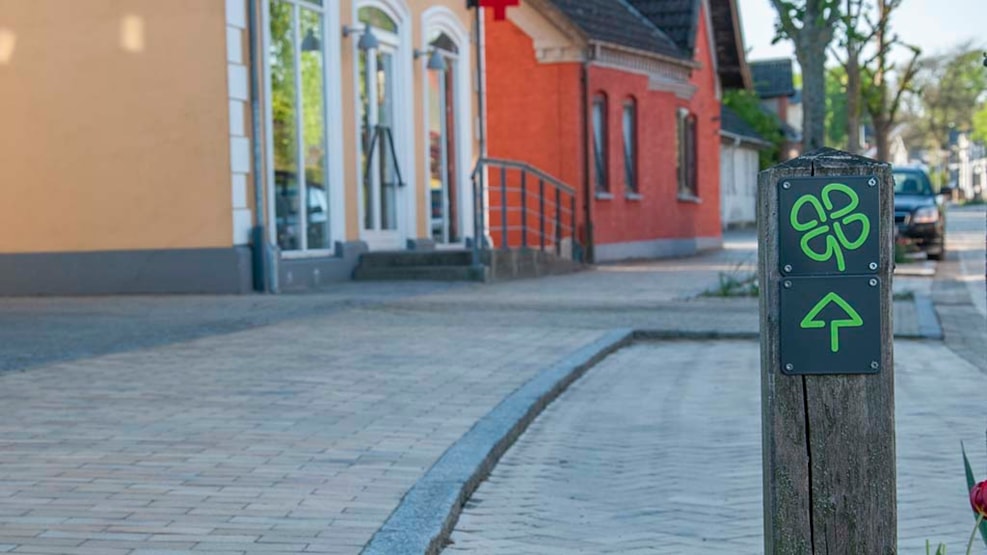 The Clover Leaf Routes in Søndersø
Explore the beautiful nature and the sights in and around Søndersø on the four Clover Leaf Routes!
Experience the town of Søndersø and the surrounding nature. Søndersø has four Clover Leaf Routes, and they're all a great way to get some exercise and enjoy nature.  You can walk, run or bike along all the Clover Leaf Routes.
You can find a small map with the routes at the starting point at Søndersø Bypark.
The Green Route, the town culture route:
2.9 km
Take a walk along one of the town's oldest roads, Odensevej. At this route you will pass the town church, the Nordfyns Gymnasium (the upper secondary programme) and 12 bronze sculptures of wise men and women.
The Blue Route/The Fitness Route:
5.3 km
Start at the town center and follow the path to the outer part of the city. This path passes one of Scandinavia's largest areas with fire pits from the Bronze Age where people sacrificed to the gods, and the town park in Søndersø with a skate park, outdoor fitness equipment, playing fields and much more. 
Click to see a map of the Blue Route!
The Red Route/ Industry in town and country:
7,9 km
Discover the changing landscape on this path, where you will pass both the industrial district in Søndersø and some of the beautiful countryside. The path takes you to the Margård manor house and through the villages Vigerslev and Vedby. Parts of this route go along small cozy country lanes, making this route particularly ideal for biking. 
The Black Route, the culture and history route:
20.8 km
Discover the past of Northern Funen. This route will take you to the Glavendrup Grove where the runic stone with the longest runic inscription ever found in Denmark rests, and the burial mound at Thorshøj which was made 3900 BC and is one of the largest burial mounds of North Funen.
The route goes all the way to Skamby where you can find one of the oldest churches of Funen. You will also pass Dallund Castle and the lake at the castle on this path. On the way you will pass a resting area where you can enjoy the park at Dallund Castle and take a rest – you can also enjoy a walk along the beautiful lake.