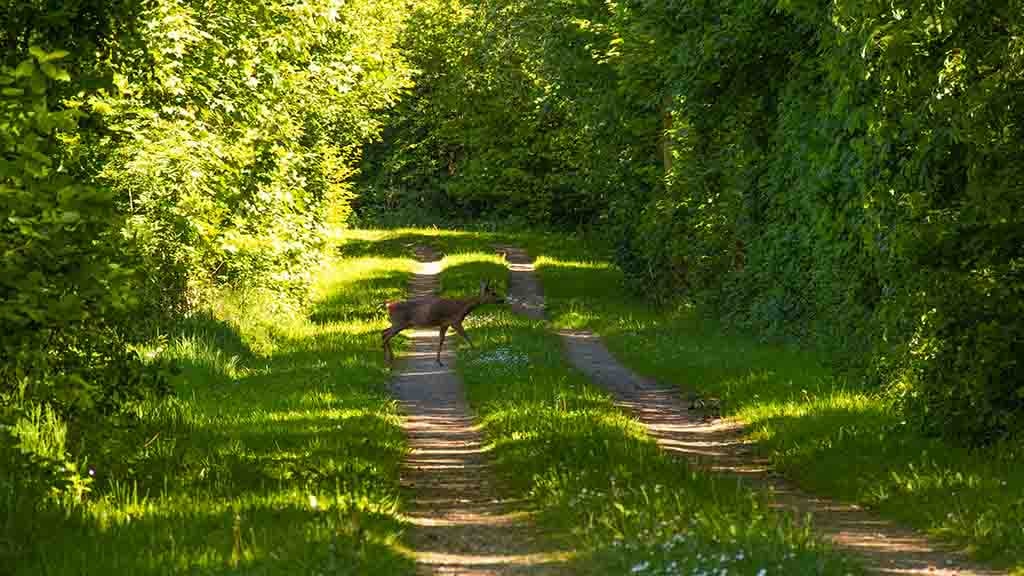 The Clover Leaf Routes in Skåstrup
The Clover Leaf Routes in Skåstrup are a great way to enjoy nature. The routes take you through small lovely villages and beautiful nature. All routes start at the Skåstrup town square, by the Clover Leaf Route sign.
You can walk, run or bike all the way along the clover leaf routes. 
The Green Route:
3 km
You get a good view of the sea from this route through villages, woods and fields.
The route begins at Skåstrup Square next to the old grocery shop. 
The path passes the local sports area, an open-air area with shelters, campfire and Mount Mejlskov, and a forest with a playground. The playground belongs to the children's house "Dragen" but anyone can use it if you clean up after yourselves.
The Blue Route:
5,5 km
This route goes all the way from Skåstrup Square and down to the beach.
The path leads you to the village Profitten through the cottage area down to the beach, through a restored nature area. The beach was awarded the Blue Flag in 2016 as a sign of its good facilities and quality. Enjoy the beautiful view of Jutland and the islands Samsø, Endelave and Æbelø, and do keep your eyes open - maybe you'll see a harbor porpoise or a seal.
The Red Route:
7,5 km
The red route leads you through a forest close to the beach to a fine meadow. Here's a hunting area, which of course affect the forests Nyhave og Skåstrup Frihed. Both forests are private, but as always, accessible between sunrise and sunset.  The dike was constructed in the late 1800. Under the trees of Nyhave, there are several burial mounds along the beach which can be dated all the way back to the stone age.
The Black Route:
10,5 km
The village path starts in Skåstrup and leads you through the villages Ørbæk, Ore and Mejlskov.
In Ørbæk, the path goes through an area with many apple trees and cherry trees, old railroad tracks and the old railway station at Mejlskovsvej. The route will also lead you past the old mansion Oregård. For many years, Oregård was a farm with breeding programs to ensure old Danish livestock breeds. The route will also lead you to the old church in Ore which can be dated back to the 1200s.
On the way back, the route passes the old community hall which for more than 100 years has been the center of social and cultural unity in Skåstrup.