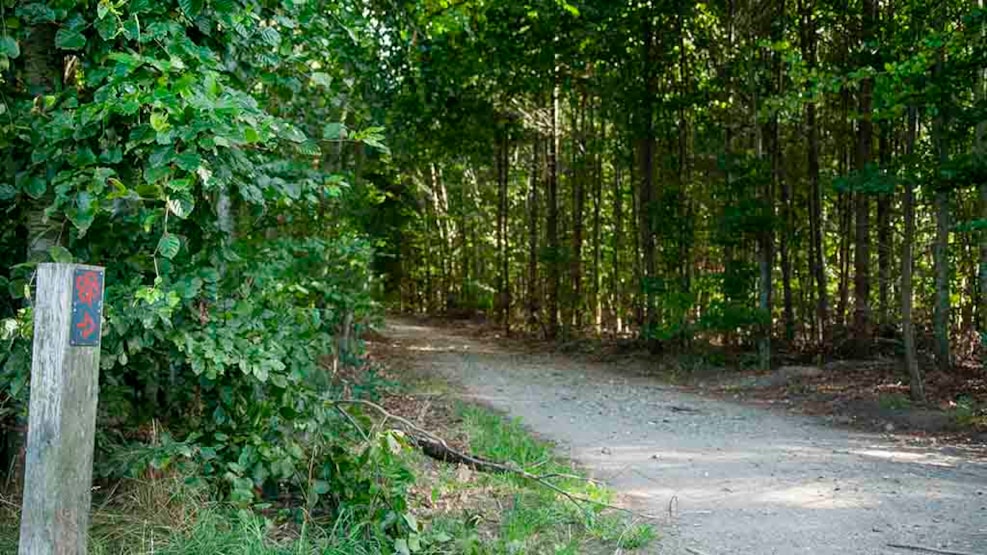 The Clover Leaf Routes in Otterup
Romance, exercise or hygge? The Clover Leaf Routes in Otterup offer it all, sp fond maps of the routes here and get going!
The Clover Leaf Routes in Otterup:
Enjoy the fresh air and get some exercise in the lovely nature in Otterup.
You can walk, run or bike on all the clover leaf routes.
The routes will show you beautiful nature and the former railroad town Otterup. The routes are marked with signs with the small clover leaf.
You can find a small map with the routes at the starting point at Otterup Torv.
The Green Route/The Love Route
2.7 km
Experience the old railway town, pass the old Otterup Gun Factory and take a cozy stroll at the Lovers Lane which used to be a railroad for transporting sugar beets.
The path will also lead you to the former manor house Nislevgård which today functions as a boarding school for students in their last year of lower secondary school.
Click here to see a map of the green route!
The Blue Route/the Developing Town
5.1 km
This path will let you see the street Bredgade where the old dairy and Otterup Inn used to be. The path will lead you to the northwestern part of town where old Viking tombs have been found. The route passes the old church which was built in either the 11th or 12th century. You will also see the museum which used to be a former poorhouse, library and pensioner's house.
Click here to see a map of the blue route!
The Red Route/The fitness route
9.2 km
Feel the wind in your hair and follow the country lanes till you reach the village Egense. Here you can go for a look and see if you can find the disappeared church. On the way back to Otterup, the path passes Byskoven (the town forest) and follows the Otterup paths, which go around most of the town.
Click to see a map of the red route!
The Black Route/the Village Route
15.8 km
This route leads you though several small and cozy villages, including the idyllic and historic village Østrup. Here you will pass the former manor house Østruplund. Midway on the route, you'll pass Klintebjerg Harbour where it's ideal to enjoy a small break and admire the view of Odense Fjord. Here you can see the small island of Vigelsø. The island is a nature reserve, and you can spot a lot of rare birds – remember to bring your binoculars.