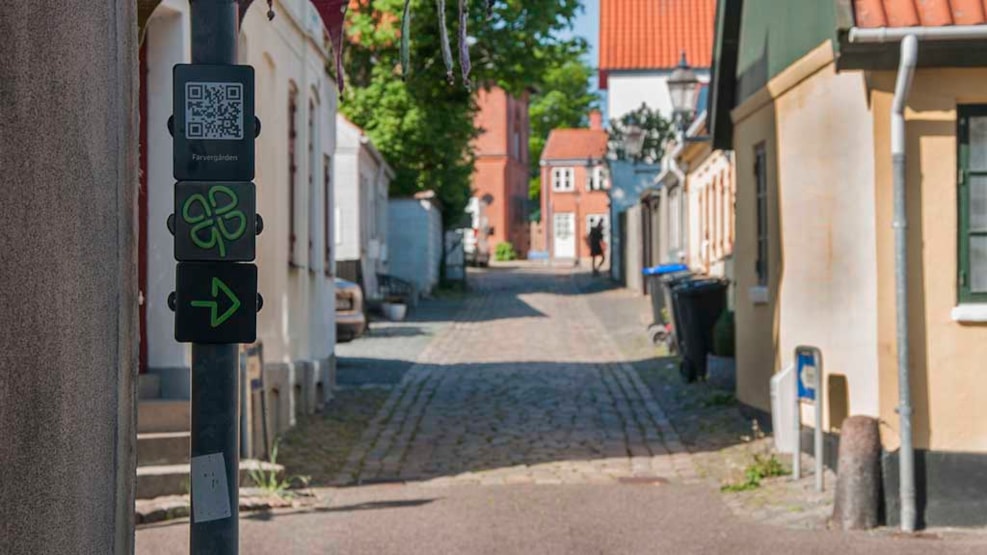 The Clover Leaf Routes at Bogense
See Bogense and the surrounding area from paths and smaller roads and enjoy the beautiful landscape! The clover leaf routes in Bogense are four routes of different lengths from 2.3 km to 14.7 km - go for a walk or try a bike ride.
The clover leaf routes in and around Bogense are a great way to exercise and experience the beautiful nature and the lovely market town.
You can walk, run or bike, and there is something for everyone to enjoy along the four routes.
You can find a small map of the routes at the starting place at Bogense Harbour.
The historical town route (The green route)
2.3 km
The green route is a nice city walk through Bogense. You'll see the Manneken Pis statue, the old merchant's house from the 18th century, the old town hall of Bogense, the cozy old square with the small buildings, Bogense Church and and back again along the seaside to the old harbour.
The levee route (The blue route)
6.3 km
The blue route takes you to some of Nordfyn's most beautiful scenery along the coast, overlooking the islets Mågeøerne and the deserted island Æbelø, to the former reclaimed of ​​Gyldensteen Strand with beautiful lakes, fjordlands and meadows. From here, the route leads past the golf club HC Andersen Golf, the Fredskoven woods and the old market town of Bogense.
The meadow route (The red route)
8.1 km
The red route goes past the pond Barfods Dam and across the beautiful meadows near Bogense, where you can see lots of birds. You pass by the meadows Vestre Enge and Fogense, formerly a shallow fjord area until it was dammed in the 19th century. The route also goes past Bogense Marina, where you can enjoy the beautiful view.
The landscape route (The black route)
14.7 km
Beautiful nature, villages and manor houses - and good experiences by bike! The landscape route leads you out into the landscape southeast of Bogense. Here you encounter manor houses, a beautiful landscape with characteristics formed during the last ice age and a varied nature, while you get fresh air far from the main road. You will find public toilets along the route by the museum and in the Hotel Passage.