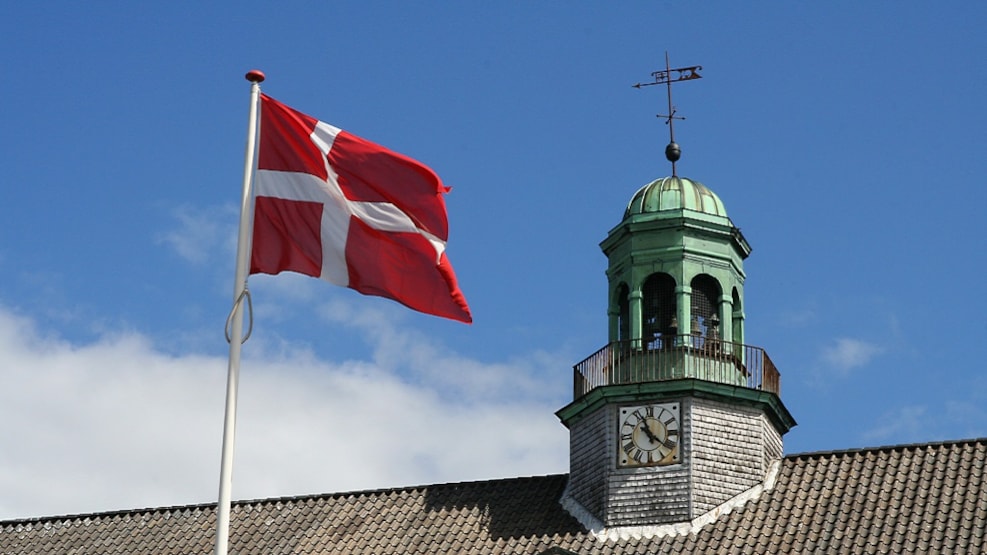 The Carillon at Bogense Town Hall
Which melody is the carillon in Bogense playing? The carillon plays different melodies during the day, and the repertoire changes throughout the year.
In Bogense, you will often hear beautiful melodies. It's the carillon at the Bogense Town Hall playing beautiful music, and there are many different tunes as the playlist is changed every month.
The carillon is in the tower of Bogense Town Hall and consists of 18 bells.
The carillon was a gift to Bogense on the occasion of its 700th anniversary as a market town in 1988. It was inaugurated on July 2, 1988 by Her Majesty Queen Margrethe II. The main donation came from the fisherman Aksel Damgård and his wife Bertha Damgård, and the Funen County also donated money to the gift. The rest of the amount was collected by the town's citizens.
The carillon was delivered from the Netherlands by the company Koninklijke Klokkengieterij Petit & Fritsen B.V.
Melodies
January
8:45: Det er hvidt derude
12:45: I sne står urt og busk i skjul
15:45: Memories
18:45: Snevalsen
20:45: Sig månen langsomt hæver
February
8:45: From Choral Symphony of Beethoven
12:45: Menuet af Mozrt
15:45: Etude Opus 10 nr. 3 af Chopin
18:45: Hymne 312
20:45: Wiegenlied af Schubert
March
08:45: Yesterday
12:45: My way
15:45: Let it be
18:45: Que sera sera
20:45: Imagine
April
08:45: Velkommen lærkelil
12:45: For alle de små blomster
15:45: Hvor smiler fagert
18:45: I Danmark er jeg født
20:45: Den blå anemone
May
08:45: Nu titte til hinanden
12:45: Jeg ser de bøgelyse øer
15:45: For alle de små blomster
18:45: Nu lyser løv i lunde
20:45: Når egene knoppes
June, July, August
08:45: I Danmark er jeg født
12:45: For alle de små blomster
13:15: se, det summer af sol over engen
13:45: En yndig og frydefuld sommertid
14:15: Jeg elsker de grønne lunde
14:45: Hvor smiler fagert
15:15: Jeg ved, hvor der findes en have
15:45: Nu er dagen fuld af sang
18:45: Hist, hvor vejen slår en bugt
20:45: Sig månen langsomt hæver
September
08:45: Oh what a beautiful morning
12:45: Marken er mejet
15:45: I skovens dybe stille ro
18:45: Jeg bærer med smil min byrde
20:45: Amazing Grace
October
08:45: Morning has broken
12:45: Nærmere Gud til dig
15:45: Nu falmer skoven
18:45: Nu hviler mark og enge
20:45: Vuggevise af Mozart
November
08:45: I Danmark er jeg født
12:45: Für Elise
15:45: Trumpet Voluntary
18:45: Gør døren høj
20:45: Skuld' gammel venskab
December, 1. week
08:45: Climb every Mountain
12:45: We wish you a merry Christmas
14:45: Long long ago
15:45: Feelings
16:45: Julen har bragt velsignet bud
17:45: Last Christmas
18:45: Oh du fröhliche
19:45: When you wish upon a Star
20:45: My way
December, 2. week
08:45: Morning has broken
12:45: And so this is Christmas
14:45: Rudolf med den røde tud
15:45: Jingle Bells
16:45: Et barn er født i Bethlehem
17:45: Santa Claus
18:45: Den yndigste rose er funden
19:45: Nu tændes tusind julelys
20:45: Amazing Grace
December, 3. week
08:45: En rose så jeg skyde
12:45: Last Christmas
14:45: Hark the Herald Angels sing
15:45: And so this is Christmas
16:45: Glade jul
17:45: Over the Rainbow
18:45: The Sound of Music
19:45: Nu hviler mark og enge
20:45: Vuggevise af Mozart
December, 4. week
08:45: We wish you a merry Christmas
12:45: Julen har bragt velsignet bud
14:45: Glade jul
15:45: en rose så jeg skyde
16:45: Et barn er født i Bethlehem
17:45: Joy to the World
18:45: Oh du fröhliche
19:45: Guten Abend, gute Nacht
20:45: Amazing Grace