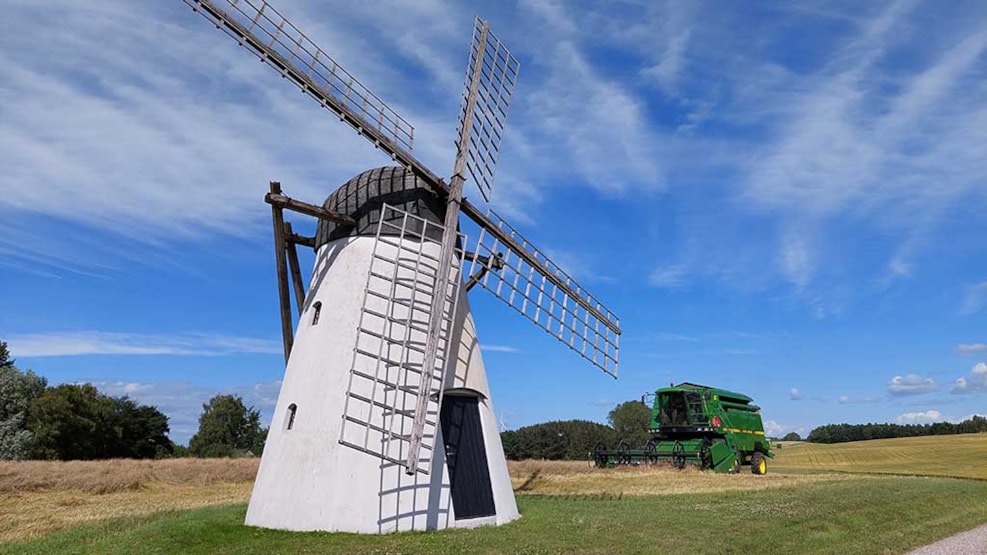 Brolund Mill at Sdr. Esterbølle
On the road between Sdr. Esterbølle and Veflinge there is a nice little white mill - it's Brolund Mølle, and it's worth a look!
The mill Brolund Mølle was built in 1907 as a small, brick-built mill that was painted black. Brolund is an old property that was created by merging the farms in the small settlement Fjællebro and was part of the Elvedgård estate from the 17th century. Since 1896, the farm has been owned by the Eriksen family, and the mill was built by the current owner's grandfather.
At that time, there was a brickworks at the property, which, among other things, produced bricks for the gate building, a forage master's residence by the road and Brolund Mølle itself. The mill ground grain for the animals on the farm and for some of the other farms. At the time, there were many small mills in the countryside for that purpose, but gradually they were outcompeted by the large engine mills in the cities and petroleum engines on the farms. Brolund Mill has not been in operation since 1947, when the owners installed electricity on the farm.
The wings slowly fell into disrepair, and in 1995 the last remnants of the wings were taken down. But the owner wanted to preserve the building and therefore had it restored the same year. The mill got new wings as well as its lucent white color. The mill's blade span is 10.5 m. In 2014, the wings were repaired again after a storm in October 2013.
Today, Brolund Mølle stands as a fine example of the many small land mills that helped make work in the countryside easier. It is not possible to enter the mill, but it is possible to park at the mill and see the beautiful building.