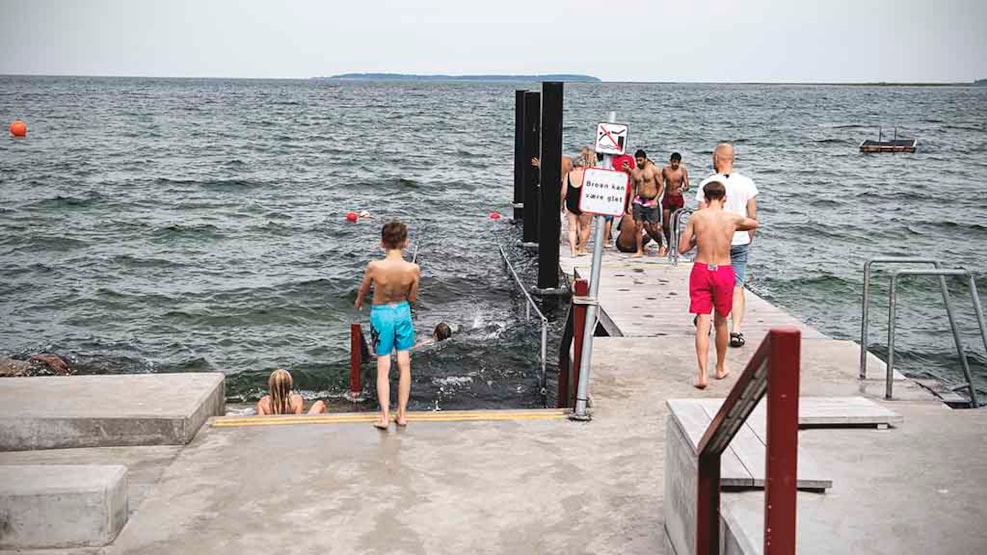 Bogense Sea Bath - public bathing in Bogense
Dive into the water and enjoy the sauna afterwards - the sea bath in Bogense is nice in winter as well as summer!
Jump in the sea from the bathing jetty in the old harbour in Bogense. There's lots of lovely sand nearby, where you can lie down, relax and enjoy life.
There's a bathing jetty and raft in the water, which you can swim to. The bathing jetty is located at Østre Mole, where there are fine views of Æbelø. Bogense Søbad has been awarded a Blue Flag as a symbol of its good quality.
The swimming bridge is set up during the summer months and is taken down on 1 September.
Beach wheelchair available. You can get the key at the tourist office, Vestre Havnevej 9B.
You can also use the new sea swimming lane next to the Sea Bath - everyone is welcome!
Showers and sauna
You can change your clothes in the changing room, where there are also toilets and showers, as well as a sauna.
You can get an access code to the changing room, showers and sauna from the tourist office in Bogense, Vestre Havnevej 9B, +45 6481 2044. It's a good idea to call beforehand.
You can use the sauna at the following times:
Monday and Wednesday: 06.00 – 10.00
Tuesday, Thursday and Friday: 15.00 – 19.00
Saturday and Sunday: 07.00 - 18.00
It is not possible to turn on the sauna yourself. It takes up to an hour for the oven to heat up.
Opening hours
The facilities and the sea bath are open during the daytime between 6 AM and 21 PM.