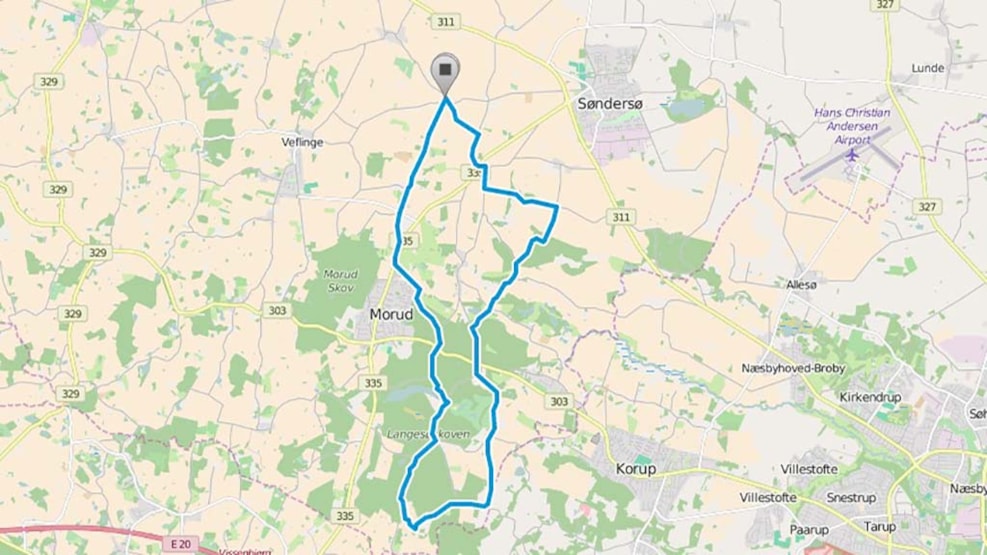 Bike Tour: The Langesø Route
Try a hilly terrain and go for a bike ride on the 22 km Langesø route, where you get around the woods, hills and valleys and can enjoy the most beautiful views!
The Langesø route is a cycle route through an exceptionally beautiful landscape.
The Langesø cycling route is 22 km through a very hilly and therefore quite challenging area.
You cycle on paths and small roads with very little much traffic.
The route goes past the old beautiful manor house Margård, the idyllic village of Tværskov and the old, well-preserved water mill Tværskov Mølle.
You'll also drive through the forests at Langesø where you can enjoy the view of the big, beautiful trees. If you're very quiet, you may be lucky to encounter deer and other animals of the forest.
On the way past the beautiful lake Langesø you will also see Langesø Castle before you get to the large animals of Northern Europe's largest bison farm Ditlevsdal Bison Farm where there are more than 400 bison.
On the way past the village of Farstrup you pass the road Banevej, where the railroad on North and west Funen Nordvestfynske Jernbane went from 1911-1966. There was a station in Veflinge, where the train was loaded with the many sugar beet grown in the area. Today you can enjoy the view of the beautiful fields and the brook Margårds Mølleå which winds through the area.
Click here to see a map of the route!
You can zoom in as well as click to see a full screen map of the route.