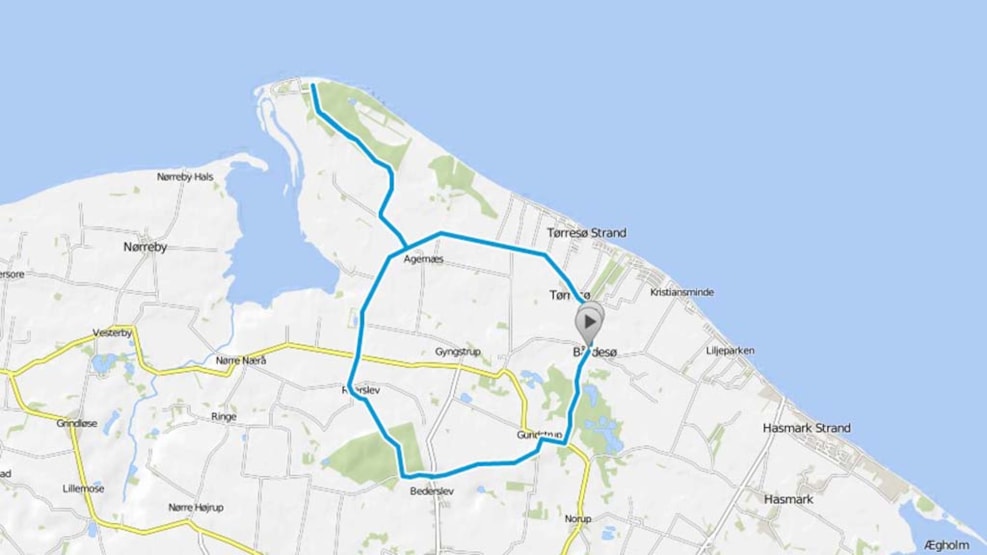 Bike Tour: The Flyvesandet Route
The route is 24 km in total and takes you out to Flyvesandet, by small, non-busy, roads. A somewhat challenging route with ascent of 63 m and descent at 65 m.
You will pass by beautiful scenery on the way towards Funen's only beach with sand dunes, the socalled Flyvesandet, and you will also pass by forests and lakes at Dalene and Rishave. The route passes by several of the holiday areas at Tørresø and Fuglsang, so you can enjoy the trip from your holiday house. You can get some supplies for the route at the supermarket Bårdesø Brugs and at the farm shop at Egeby Fruit Plantation, where you can buy fresh fruit in the season and several varieties of apple juice.
On the route you pass twice the Einsidelsborg Pump canal, which was built as part of the work to reclaim Krogsbølle Fjord. It was the owner of the present Egebjerggård, the count Joachim Godske Moltke, who began work to reclaim the fjord in 1781-82, and there was a lot more done to strengthen the reclamation during the 19th century. Before that time the fjord was much bigger, and along the route you actually cycle on the old fjord bottom.
You will also pass by Kørup Castle and the old village of Roerslev, and you will get a good look at the true countryside of Funen on your bike ride.
Click here to see a map of the route!
You can zoom in to see more as well as click to see a full screen map of the route.