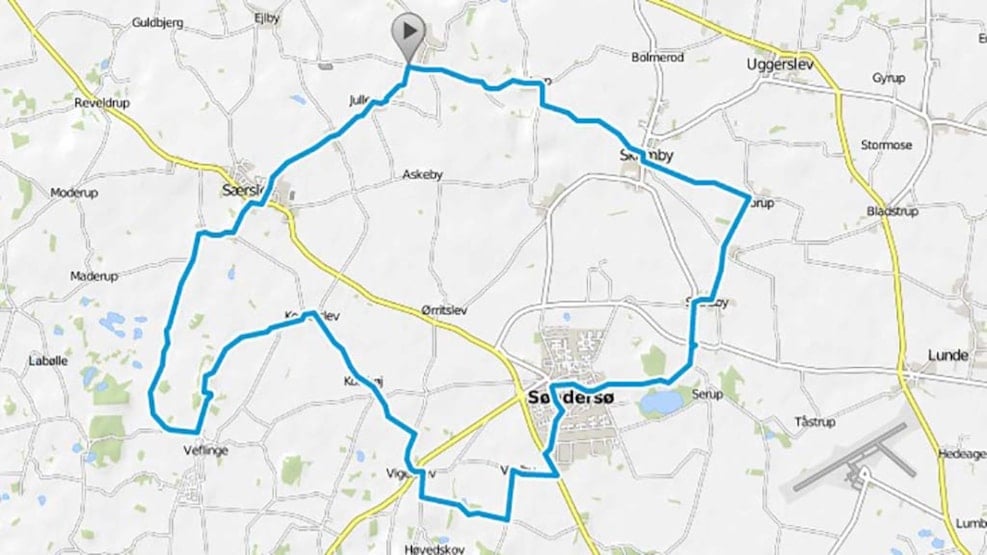 Bike Tour: The Dallund Bike Route
Saddle up and go on a 33 km long bike ride with smooth terrain and without much traffic. The tour goes past a castle, an old church and a runestone.
The Dallund Route leads you past idyllic ponds, beautiful scenery, old station towns and Danish history.
The cycle route is 33 km long, and the route is on even ground along small roads and paths without much traffic.
On the way, you will pass the beautiful Særslev Church from the 13th century, a road church open for visitors. You'll cross North Funen's farmland with grain and canola flower fields and beautiful apple trees and the old villages such as Sdr. Esterbølle. You will also pass forest areas and the old villages Kosterslev and Vigerslev, and beware when you must cross the highly-trafficked road Odenseveien. You'll see North Funen's third largest town Søndersø, go past the old mill and along the small shops along the road to the old Dallund Castle where you can choose to go for a walk around the lake in front of the castle. The castle was built around 1540 and is a very beautiful sight.
You'll also pass by the Glavendrup Grove, where you can see the Glavendrup Stone, a runestone with Denmark's longest rune inscription, as well as the former railway town Skamby, where there was a station on the railway line through North Funen, which was in use from 1882-1966. You can still see the old station building with a horse barn for the travellers on Stationsvej 2, where the building is a private residence now.
Then you'll drive past the rolling fields past the old village of Jullerup and through the village of Særslev, which was built in the late Viking era and is characterized by the very long main street. Here you also go past the statue of Klaus Berntsen, who started the folk high school Særslev Højskole, which was in use from 1882-1938 and where many locals, maids and field workers got a bit more education.
Click here to see a map of the route!
You can zoom in as well as click to see the map in full screen.