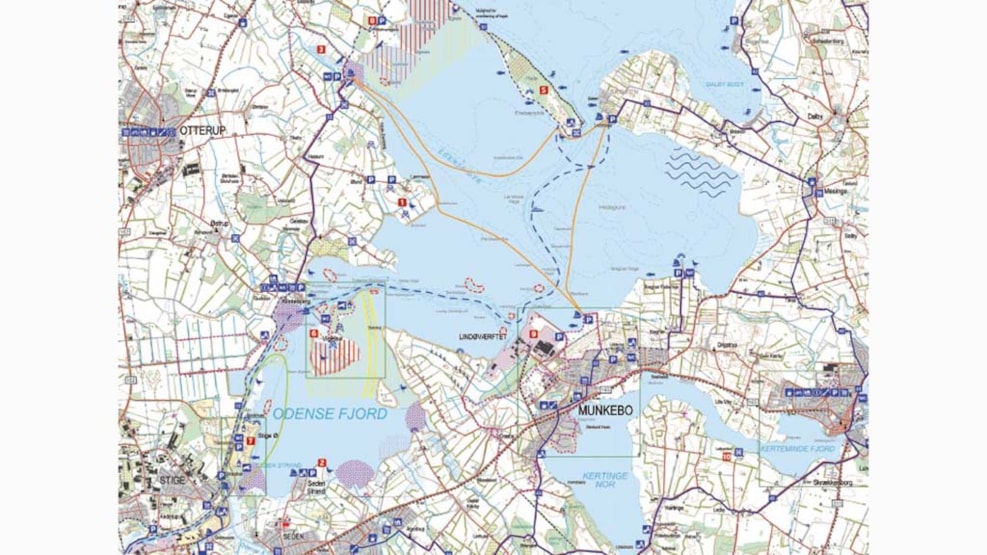 Bike route along Odense Fjord
Enjoy one of Funen's most beautiful views on the bike ride along Odense Fjord between Odense Harbour and Hasmark Strand - 25 km with good exercise!
Enjoy a nice bike ride on trails and small roads along the Odense Fjord - and admire an amazing view along the water.
The route runs between Odense Harbor and the beach at Hasmark along the Odense Canal and Odense Fjord on small trails. It is a nice and peaceful way to get to Odense without a car, and it's also a nice way to get to Hasmark and Enebærodde from Odense. You drive along the fjord all the way to Klintebjerg Harbor, which was once a busy hub for shipping in Odense Fjord. From here, you go along small roads past rural areas that were dammed in the 19th century and today offer beautiful scenery. You arrive at Egensedybet and Otterup Marina and drive by the manor Hofmansgave to the spit Enebærodde, where you can choose to drive around the entire spit on your bike. You can also choose to swing right and go along Hasmark Strand and relax at the beach oasis at Hasmark Strandoase before heading back to Odense.

The route is ca. 25 km long.