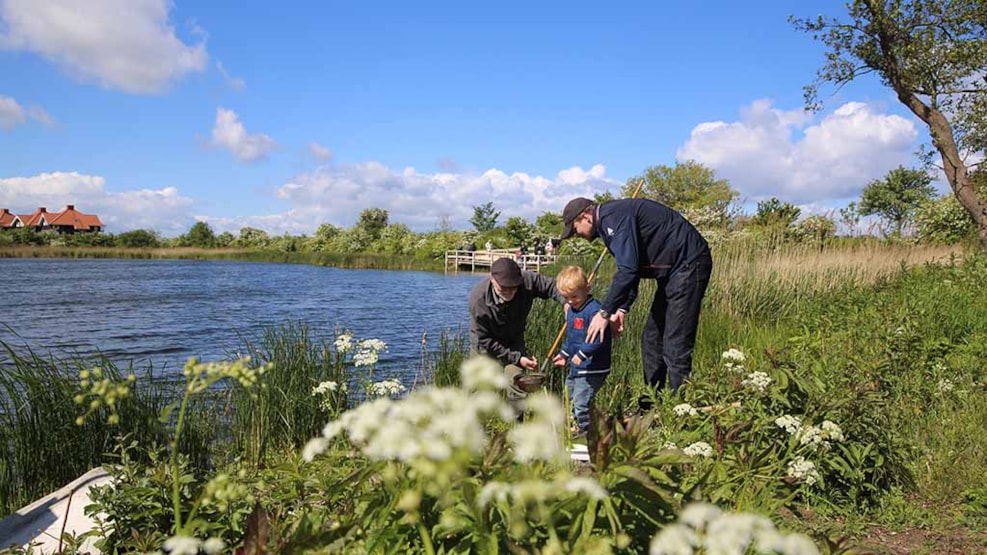 Barfods Dam (Pond) in Bogense
Barfod's Pond is a beautiful idyll where you can fish, enjoy the packed lunch in the open nature or jump around on the nature playground next to the pond!
Idyllic fishing lake
The pond Barfods Dam is located close to Bogense Marina, but the small lake is hidden from the road by trees and is a beautiful green oasis. The pond is located right next to the nice nature playground.
It has not always been so peaceful. The pond was excavated in the 19th century when the land was to be used for dikes at Bogense and for the soil for the iron foundry in Bogense.
Barfods Dam was a Put & Take lake for many years, but now they no longer put any fish in the lake.
On the other hand, there are lots of fish in the 10,000 m² pond: You can catch perch, pike, year, skull, skull and three-spined stickleback.
There are three platforms in the lake, so children and people with disabilities or elderly people can easily fish at the pond.
Bring your fishing rod or a small fishing net and enjoy a leisurely fishing trip!
The lake is not manned and there is no guarantee of catching anything - in return it is a nice and relaxing place!
Fishing license
You need a valid fishing license to fish in Barfods Dam. You can buy fishing signs at www.fisketegn.dk .
If you are under 18 or over 65 years old, you do not need a fishing permit, and you can freely fish in the pond.