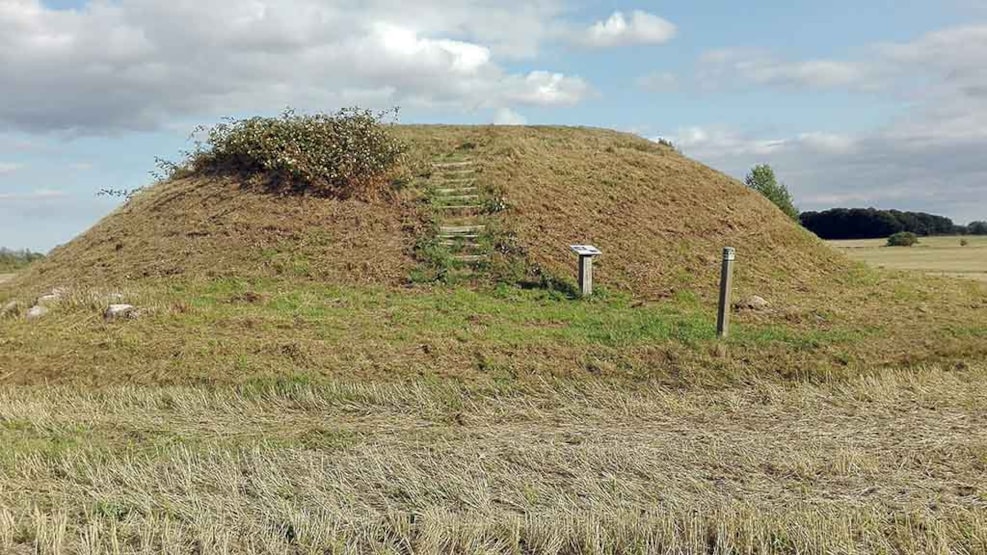 Torshøj (Round Barrow)
See the view from the largest burial mound on North Funen - but beware of the underground wights that appear at night and dance!
From Torshøj, you have a fantastic view of North Funen.
In clear weather you see Vissenbjerg with the high mast. The hill is also called Thorshøj or Thorehøj. It is a large round barrow, probably the largest on North Funen, probably from the Bronze Age. In 1953, the mound was measured at about 30 meters in diameter and 5.5-6 meters in height.

A small flint tool and other single finds have been found. There are signs that there have been grave robbers, but they seem to have regretted it according to legend which goes that
"he who digs in the mound will face a sad destiny, and this has been proven by experience." (The National Museum, 1891).
There are many tales and legends about Torshøj. For example, this from a a pastor's statement from 1704:
"A farmer shortly after (October 23, 1704) passed the mound, which at the same time stood on 4 poles, then saw 7 people dancing around the mound, and these followed him to the town of Thoruppe and then disappeared."
DIRECTIONS:
Drive from Skamby on Thorupvej. About 900 meters on the left side, Torshøj is situated about 50 meters in the field.