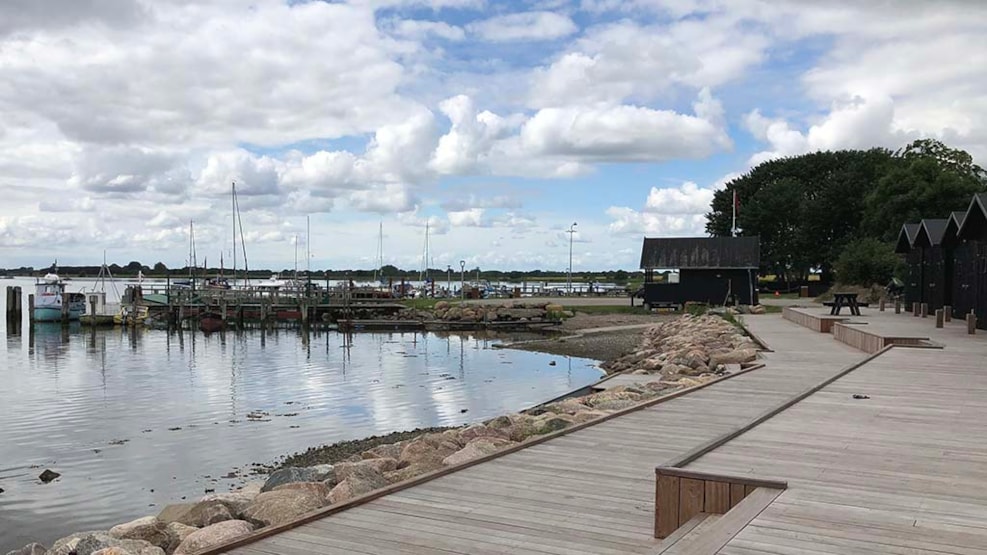 Guided tour of Klintebjerg
From a small fishing village to Odense Fjord's largest port to today's marina - get the story of Klintebjerg Harbour and Odense Fjord!
Klintebjerg by Odense Fjord is a small historic port city with major changes over the last 250 years.
Before King Frederick the 5th, the place lay deserted and uninhabited, consisting only of two islands, Klintør and Klingeskov, until the first settlement came in 1746. It was the only settlement for the next hundred years. Then Klintebjerg gained great importance as a port, as the large ships could not get any further into Odense Fjord.

Klintebjerg is now being transformed into a creative area with small boat houses etc. Here is a marina for leisure sailors.

Get the story of Klintebjerg and Odense Fjord and Vigelsø, the glacial island that is opposite Klintebjerg - and enjoy the beautiful scenery and the impressive view at the same time! You can bring your food or coffee and enjoy it at the tables and benches on the harbour.
When
Guided tours on Wednesdays 30 June and 14 and 28 July at 18:30-19:30.

Price: DKK 50,-
Good to know
Meeting point: Klintebjerg Harbour, Klintebjergvej 182, 5450 Otterup